FINALLY, the Great British Bake Off is BACK on Channel 4- we're very excited, can you tell? Kicking things off with Cake Week, the Great British Bake Off 2021 was thrown back onto our screens this Tuesday at 8pm. So, don't expect us to be making any plans 8pm-9pm for the next 10 Tuesdays because we'll be too busy watching Paul and Prue whittle this year's talent down to one Bake Off 2021 Champion.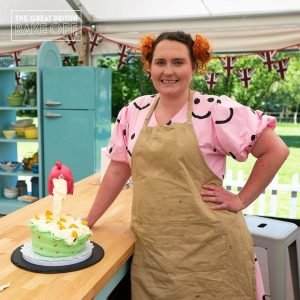 Missed this first episode and need to catch up ready for Biscuit Week? Don't worry, we'll give you all the details in this week's blog where we'll be covering the highs, lows and baking woes of episode 1. Better yet, we'll be talking all things Pack Hacks and sharing the details of our latest Bake Off competition, so remember to read right to the end to see how you can enter!  
WARNING: Spoilers ahead, read at your own risk.  
Firstly, are you a Star Baker? Enter our competition now
We're launching a brand-new competition and we want you to get involved. Share your exante British Bakery range showstoppers on Instagram or Facebook with the hashtag #exanteBakeOff to enter and you could win a £50 exante voucher. Whether you create muffins, biscuits, cakes or cookies, we want to see your baking skills. Remember to tag us in your baked delights as well as using the hashtag to make sure we can see your creations!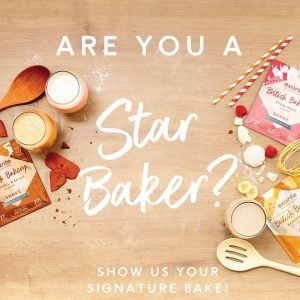 But that's not everything. We'll be awarding the first 200 customers to spend £70 will get a FREE British Bakery Mixed Bundle in their order. 
Now, let's get into Cake Week
This year's competition kicked off with a mini roll Signature Bake where the bakers were tested on their technique and flavour combinations. One of the highlights included Jurgen's tasty black forest gateau rolls, decorated with mini chocolate Christmas trees and cream. But it was Tom's disastrous attempt to cover up his cracked sponge with melted chocolate that supplied some extra laughs during the episode.  
In the next challenge, Prue asked the bakers to rustle up a classic malt loaf alongside some homemade butter, warning that it may stump a few of the younger contestants. But it was no match for 19-year-old Freya who impressed the judges with her yummy loaf, coming second only to Maggie- the show's first ever Prue Leith lookalike!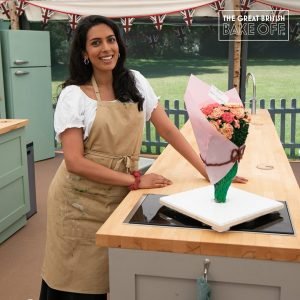 Finally, we got to the all-important Showstopper Challenge where the bakers were asked to cook up a springy sponge that could defy the laws of gravity and stand up completely alone- crazy, right? There were some amazing sponges including Jurgen's lampshade cake as well as Crystelle's mesmerising floral arrangement cake, shaped to look like a bouquet.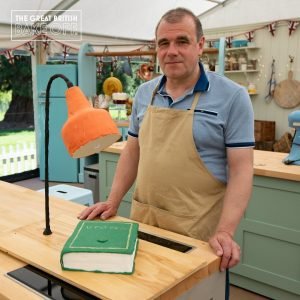 Thanks to his outstanding Showstopper and stellar performance throughout the rest of Cake Week, Jurgan was propelled into next week with the title of Star Baker. Sadly, it was time to say goodbye to Tom whose mini roll fiasco and gravity-obeying Showstopper left the judges less than impressed.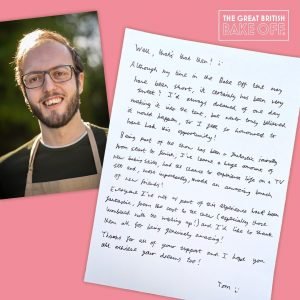 Bake Off got your craving cake? 
Can't help but crave cake when you're watching Bake Off? You're not alone! Don't worry, we've got the perfect recipes to curb your cake cravings without interrupting your healthy living.  
Signature Shake Cakes
What you'll need 
Cake cases

 

1 x Meal Replacement Shake (flavour of your choosing)

 

1 x egg

 

½ tsp baking powder

 

500ml of water 

 
Making the cakes 
Mix the shake sachet with the egg and 1sp of baking powder.

 

Once the ingredients are mixed, slowly add water while stirring.

 

You may not need to add the entirety of the water, just add until the consistency of the mixture becomes like a batter. 

 
Not-so-technical Caramel Biscuit Mug Cake
What you'll need 
½ pack of a Caramel Biscuit shake

 

½ a Weetabix, crumbled

 

½ Tsp baking powder

 

1 x egg

 

2 x spoonfuls of yoghurt

 

A few flavour drops of your choice

 

Fruit or nuts to top

 
Making the cake 
Mix all the ingredients together in a microwavable mug, and microwave for 90 seconds. Top with fruit or nuts of your choice and some Greek yoghurt for an extra treat.  
Showstopper 2 Layer Celebration Cake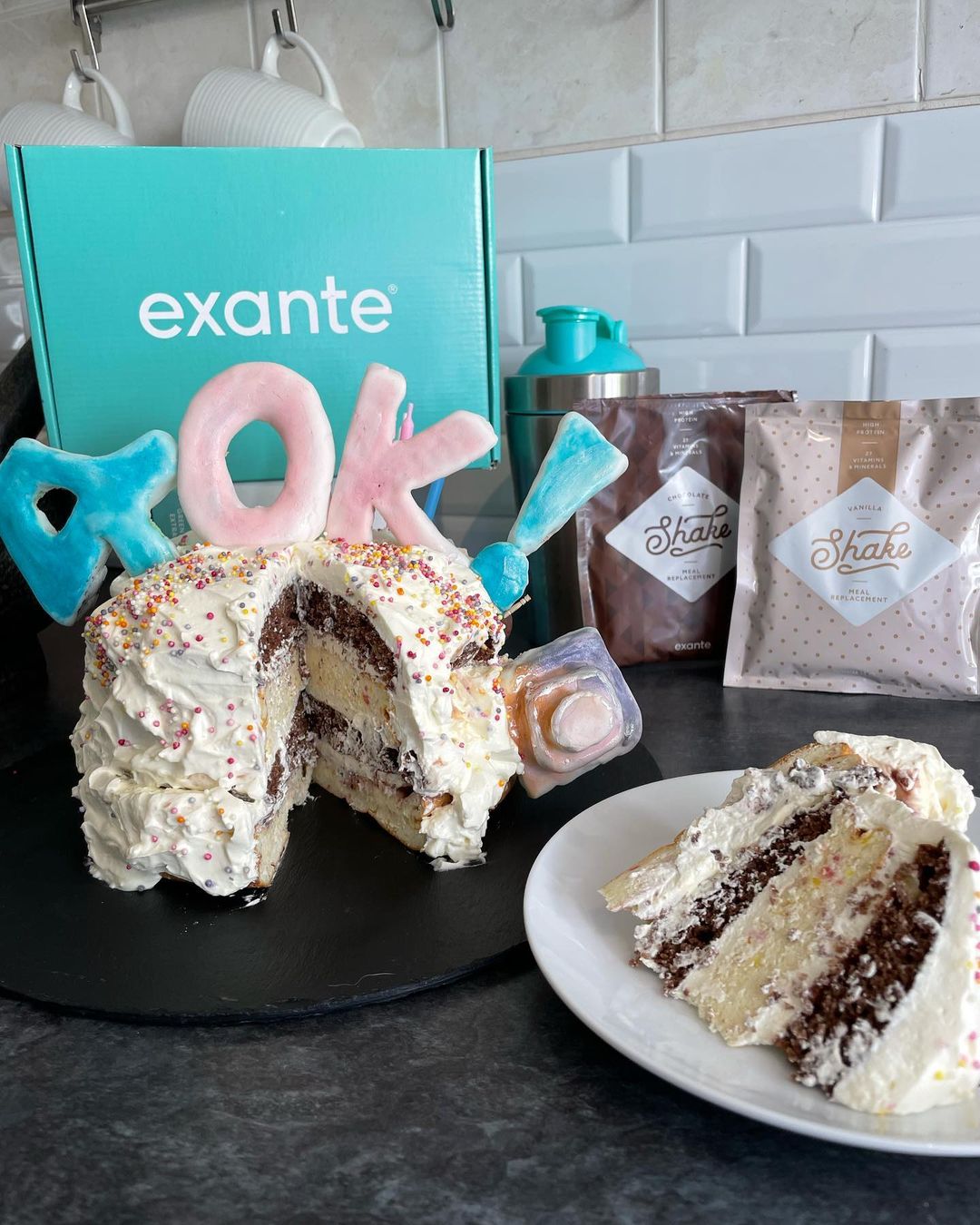 What you'll need 
2 x Meal Replacement Shake (flavours of your choosing)

 

25g almond flour

 

15g egg white powder

 

1 tsp baking powder

 

¼ tsp salt

 

6 large egg whites 

 

1 tsp cream of tartar 

 

30g powdered erythritol

 

1 tsp flavour drops

 

100ml plant cream

 

200ml yoghurt of your choosing

 

1 tbsp powdered sweetener

 
Making the cake 
Preheat the oven to 160 degrees. 

 

Line cake tins with greaseproof paper.

 

Separate the ingredients in half to make 2 cake layers. You'll need to use half of two shake sachets in two flavours of your choosing- we chose Chocolate and Vanilla.

 

Sift all the dry ingredients together, making sure to get any lumps out of the mixture.

 

In a separate bowl, whisk the egg whites and cream of tartar until they're frothy.

 

Add a few drops of your Flavour Drops and continue whipping until stiff peaks form in the mixture.

 

Add 1/3 of the sifted ingredients to the egg white mixture and gently fold.

 

Continue until all the ingredients are combined.

 

Pour your batter into the greased cake tin, ensuring to smooth it evenly.

 

Bake for 15-20 minutes or until the cake is springy to the touch.

 
Making the icing 
Whip up your plant cream and yoghurt. 

 

Add your powdered sweeter and mix.

 

Spread evenly between the 2 layers and on the top of the cake.

 
Don't have the time to bake? Try our on-the-go British Bakery range
Don't worry if you don't have the time to make our yummy Pack Hacks, we've still got plenty of options to satisfy your cake cravings. Our British Bakery Range is inspired by British desserts and baked classics, perfect for when you're in the mood for a sweet treat! Made in a range of yummy flavours, each shake is enriched with our classic blend of 27 vitamins & minerals and is high in protein and is the tastiest alternative to cake.