With only a week until Easter (wasn't it just January?!), we've brought back our deliciously indulgent Hot Cross Bun Meal Replacement Bar! Our limited edition bar also has a brand NEW recipe and tastes like Easter should taste – without any of the guilt! Ok, so it might not be an Easter egg BUT it's the perfect sweet treat for this time of year and it tastes amazing!
Did you know the average Easter egg contains 50g of sugar?!
And before you think about picking up a hot cross bun instead of your chocolate egg this year – on average, one bun contains over 30g carbohydrates!
So, this Easter choose our delicious Exante Hot Cross Bun Bar to enjoy the season, without sabotaging your weight loss goals.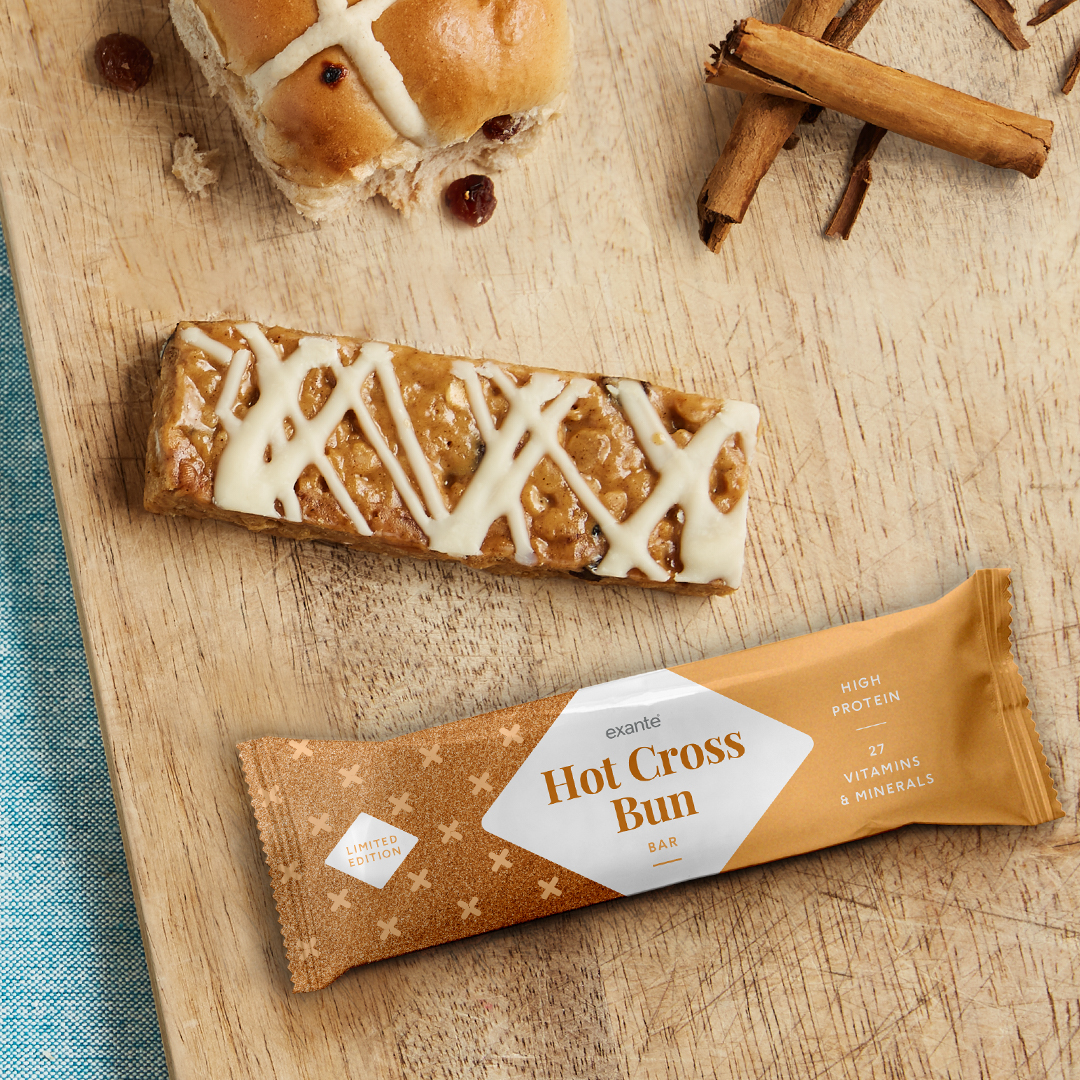 Exante Hot Cross Bun Bar
Total Meal Replacement or high protein snack
234 calories
17.4g protein
Low carb
27 vitamins and minerals
Raisins, nutmeg & ginger for delicious flavouring
Delicoius white chocolate drizzle topping
The Highlights
The best part is that you can enjoy our Exante Hot Cross Bun Bar on ANY plan! Have as one of your 3 products if following Total Solution or Man Plan, one of your two products while on Flexi or just as a healthy snack if following a healthy-eating plan! Because the bar is packed with protein and vitamins and minerals, it's the perfect way to enjoy something sweet this Easter.
Nutritional Information
Energy (kcal) – 234
Fat (g) – 5.8
of which Saturates (g) – 1.2
Carbohydrate (g) – 24.9
of which Sgars (g) – 9.9
Fibre (g) – 8.7
Protein (g) – 17.4
Salt (g) – 0.93
Shop our NEW Limited Edition Easter treat now!