We are heading to the National Wedding Show this month,  and on Friday 8th March it is International Women's Day, so we have decided to highlight some incredible Exante Wedding Success Stories!
With dedication to their diet plans, these Exante brides have achieved incredible weight loss results and transformed their bodies for their special day. Here are their inspirational Wedding Success Stories.
Meet Mandy
Keep going – if I can do this ANYONE can.
Mandy kickstarted her Exante journey last summer at a starting weight of nearly 16 stone. Mandy decided to start Exante not only to transform her body but to boost her confidence levels. Since starting her weight loss journey, Mandy has dropped four dress sizes and transformed her body in time for her wedding in February.
"I got Married yesterday! When I started this journey I was a 18/20, but I'm now a 12/14. Who knew I could get away with wearing a frock like this at 53 and feel great in it! I still have weight to lose and am writing this on a five-hour road trip to a mini moon! But thank you Exante, thank you for all of your support & after a few days off I'll be back on it! Keep going – if I can do this ANYONE can."
Meet Kate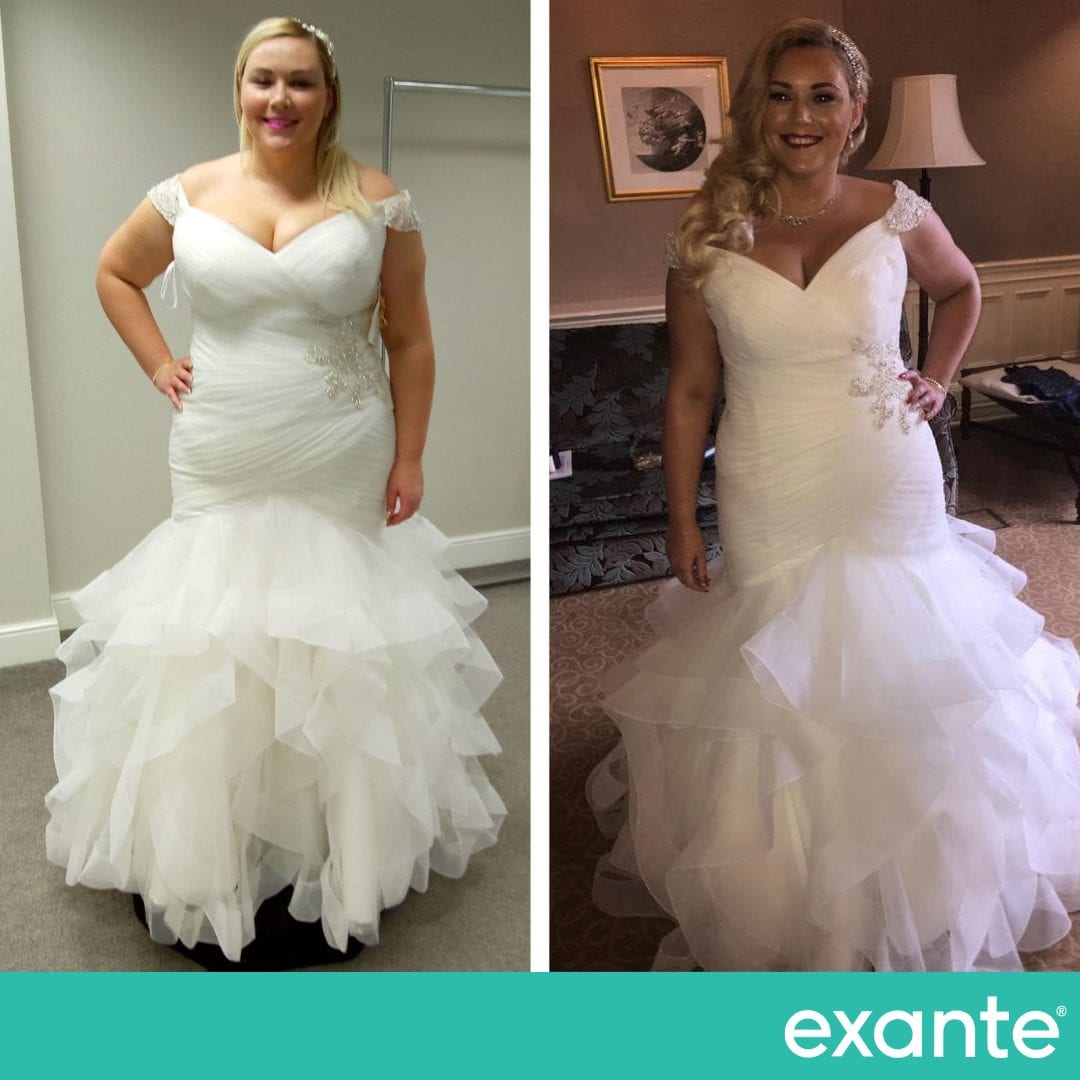 Within 9 weeks I had lost 3st… I was astounded!
After finding her dream wedding dress, Kate decided to get started on Exante to help her get on track to fitting into her dress, in time for the big day.
"I stumbled across Exante in my search and my initial thoughts were that this was really affordable and perfect for me as I needed something rigid to stick to. I weighed 19st and 2lbs. I was shocked with a 9.25lb loss at first weigh in. This motivated me to continue. Within 9 weeks I had lost 3st! I went for a fitting and my dress went from not closing on the bum to fully laced up. I was astounded!
Because my dress was a curvy girl design I was restricted to how much I could lose. I therefore tried to maintain from then until the wedding. I weighed in at 16st 3.5 at the wedding!"