Added to your basket
Sorry, there seems to have been an error. Please try again.
Order Subtotal ( items in your basket)
No Allergens. Suitable for vegetarians and vegans.
Beanies Coconut Delight Flavour Instant Coffee
In stock
-
Usually dispatched within 24 hours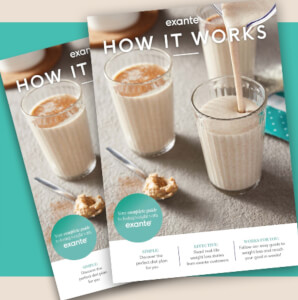 Exante How it Works eBook
Worth £4.99
Free How it Works eBook with every order!
Receive our Free How it Works eBook with every order. Packed with diet plan information, plan recommendation based on your BMI, FAQs and all things Exante!
Your free copy will be emailed to you within 24 hours of purchase and you will not be charged for this item.
View more from this offer
Try Beanies Coconut Delight instant coffee as an alternative to your regular coffee or in your favourite shake.
Beanies offer a range of flavoured coffees, less than 2 calories per serving, in a handy 50g size jar. They infuse their freeze dried coffee with flavour using innovative technology to ensure you have a consistent taste from the first to the last cup in the jar. Carb and almost calorie free, enjoy these coffees freely on all Exante diet solutions.
100% Sugar Free
50g freeze dried Coconut Delight Flavoured Coffee
| Nutrition Information | Per 2g Serving |
| --- | --- |
| Energy KJ | 3.1 |
| Energy Kcal | 0.7 |
| Protein (g) | 0.1 |
| Carbohydrate (g) | 0.0 |
| (of which sugars) (g) | 0.0 |
| Fat (g) | 0.0 |
| (of which saturates) (g) | 0.0 |
| Fibre (g) | 0.0 |
| Sodium (g) | Trace |
Customer Reviews
Overall Rating : 3.5 / 5 (2 Reviews)
Top Customer Reviews
Where reviews refer to foods or cosmetic products, results may vary from person to person. Customer reviews are independent and do not represent the views of The Hut Group.
Everyday I have coconut milk mocha, which is partially the reason I am now on this website. Anyway, as i'm trying to be a skinny legend now I bought this as I thought it would soften the blow and i'd feel like I was still getting my treat. It taste of chemicals. Disgusting, synthetic chemicals. Not enjoyable.
So I've worked my way through all the beanies flavours and I didn't think I'd like this flavour but it's my favourite now. Subtle taste but very nice.
Other customers bought:
Beanies Cinnamon Hazelnut Flavour Instant Coffee

Exante How it Works eBook

Worth £4.99

Free How it Works eBook with every order!

Receive our Free How it Works eBook with every order. Packed with diet plan information, plan recommendation based on your BMI, FAQs and all things Exante!
Your free copy will be emailed to you within 24 hours of purchase and you will not be charged for this item.

View more from this offer

Beanies Nutty Instant Coffee Mini Stash

Save 30% on our range!* Use Code SEPT30

Save 30% on our meal replacement range! Use on individuals and boxes of 7!* Plus spend £60+ and receive Free Next Day Delivery*
*excludes diet packs, BURST, accessories and sale items.

View more from this offer!

Beanies Chocolate Orange Flavour Instant Coffee

Exante How it Works eBook

Worth £4.99

Free How it Works eBook with every order!

Receive our Free How it Works eBook with every order. Packed with diet plan information, plan recommendation based on your BMI, FAQs and all things Exante!
Your free copy will be emailed to you within 24 hours of purchase and you will not be charged for this item.

View more from this offer
Zoom