Added to your basket
Sorry, there seems to have been an error. Please try again.
Order Subtotal ( items in your basket)
Exante 4 Week Subscription Box
Containing 84 bestselling meal replacements.
Free Delivery | Auto Renew | Monthly Billing
Stock will be despatched to you as soon as we receive it from our supplier.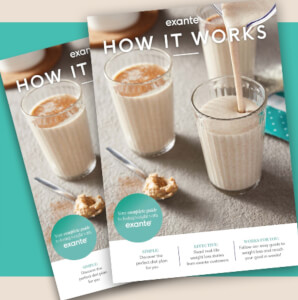 Exante How it Works eBook
Worth £4.99
Free How it Works eBook with every order!
Receive our Free How it Works eBook with every order. Packed with diet plan information, plan recommendation based on your BMI, FAQs and all things Exante!
Your free copy will be emailed to you within 24 hours of purchase and you will not be charged for this item.
View more from this offer
How to use your Exante 4 Week Plan
Your plan is designed to be a total meal replacement diet. It is designed especially to help people with a BMI of 30+ to lose weight quickly and effectively. Simply substitute your traditional meals with 3 Exante meal replacements a day, plus 200 calories of high-protein extras from our Healthy Food Ideas for 100% nutrition. You should also increase your water intake to 2-4 litres per day.
Alternatively, you can use your Exante meal replacements in our 5:2 Diet Plan and 1200 Plan alongside healthy, balanced meals.
For more information, view our Diet Plans page.
Your plan contains:
84 bestselling meal replacements:
40 shakes in a variety of flavours
20 bars
24 soups, breakfasts and meals
1 shaker bottle
1 water enhancer.
*Contents may be subject to change due to stock availability.
For product specific information, including ingredients, allergens and nutritional information, please refer to the individual product pages.
Key Benefits
Simple and convenient weight loss
High in protein and fibre
Enriched with 27 vitamins and minerals
Use a meal replacement for one or two meals of a daily, energy-restricted diet to contribute to weight loss or to the maintenance of weight after weight loss. Consume as part of a balanced diet and healthy lifestyle, maintaining an adequate daily fluid intake.
Customer Reviews
Overall Rating : 5.0 / 5 (1 Reviews)
Top Customer Reviews
Where reviews refer to foods or cosmetic products, results may vary from person to person. Customer reviews are independent and do not represent the views of The Hut Group.
Over the moon with ordering a monthly subscription box! Great price considering what you are receiving for example a free shaker for your beautiful meal replacement shakes, where as if you're ordering a 4 week plan it costs more than having it on a contract basically. One benefit of signing up for subscription is you don't have to worry about forgetting (i have 2 kids and forget what day it is sometimes). Another thing coming to delivery spot on. On time the next day, no fuss no stressing because your preparing meal preps for 4 weeks, truly amazing that this little box has your full diet ready to use within a minuet of opening. The money is 100 percent worth it. Will be recommending to friends and family who are also trying to loose weight. Im excited to share before and after pictures. I've tried so many other diets and this is 110 percent the one for me as im sure many others would also agree! Thank you exante.
Zoom