Added to your basket
Sorry, there seems to have been an error. Please try again.
Order Subtotal ( items in your basket)
Salter BW05850 Prep and Go - Green
In stock
-
Usually dispatched within 24 hours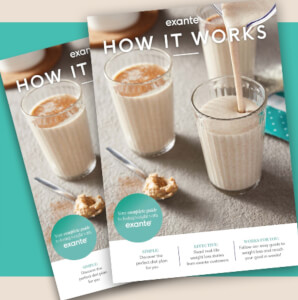 Exante How it Works eBook
Worth £4.99
Free How it Works eBook with every order!
Receive our Free How it Works eBook with every order. Packed with diet plan information, plan recommendation based on your BMI, FAQs and all things Exante!
Your free copy will be emailed to you within 24 hours of purchase and you will not be charged for this item.
View more from this offer
The Salter Prep and Go Food Pot is an innovative lunch box that allows you to make lunch on the go or prepare in advance. The set features three food compartments in large, medium and small that neatly nest inside each other when not in use. The small pot is ideal for dressings and sauces, the medium pot is great for fruit or cereal while the large pot will hold soups, salads and meals. The large capacity means you can easily fill up with your 5-a -day. With an innovative built in spiralizer compartment, grip and blade, you can quickly add healthy vegetable ribbons or noodles just before you eat for the ultimate in freshness. Made from durable plastic with a leak-proof lid, a folding fork is included that attaches to the lid.
Features:
Salter Prep and Go Food Pot
3 x food compartments: large, medium and small
Perfect for packed lunches at work or picnics
Built-in spiralizer: quickly add vegetable ribbons or noodles to meals on the go
Folding fork attaches to the lid
Food pots nest inside each other when not in use
Material: Plastic
Size:
Dimensions: H: 18.5cm x W: 14cm x D: 14cm
Customer Reviews
Overall Rating : 3.0 / 5 (2 Reviews)
Top Customer Reviews
Where reviews refer to foods or cosmetic products, results may vary from person to person. Customer reviews are independent and do not represent the views of The Hut Group.
This is the worst cut veggies I've used. Very disappointed, it is not easy to use. It is very useful. It is not worth 20pounds for it even 1pound is not worth.
I'm in love with the prep and go amazing to take to work and out and about
Other customers bought:
Exante Tote Bag

Exante How it Works eBook

Worth £4.99

Free How it Works eBook with every order!

Receive our Free How it Works eBook with every order. Packed with diet plan information, plan recommendation based on your BMI, FAQs and all things Exante!
Your free copy will be emailed to you within 24 hours of purchase and you will not be charged for this item.

View more from this offer

Salter Fruit And Veg Slicer

Exante How it Works eBook

Worth £4.99

Free How it Works eBook with every order!

Receive our Free How it Works eBook with every order. Packed with diet plan information, plan recommendation based on your BMI, FAQs and all things Exante!
Your free copy will be emailed to you within 24 hours of purchase and you will not be charged for this item.

View more from this offer
Zoom