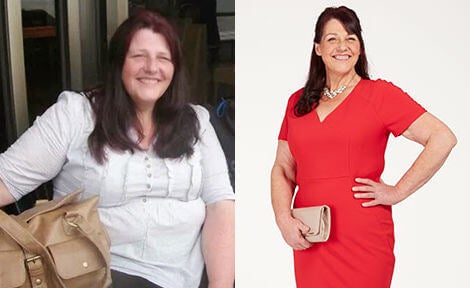 Denise Lee
Start weight: 21st 4lb
End weight: 14st
Weight-loss: 7st 4lbs*
"I could look in the mirror again. I feel better and I've learnt how to eat healthily."
*Weight loss results may vary and are different for each individual.
View Plans
Read about how Denise lost her weight!
Q: What was your weight loss motivation?
A: My boyfriend is 13 years younger than me and even though he said he loved me any at weight I was unhappy and constantly ill. I couldn't physically keep up as it was affecting all aspects of my life. I was unhappy and constantly ill. Then l was diagnosed with fatty liver disease, acid reflux high blood pressure, high-cholesterol and was borderline diabetic.
Q: What made you choose Exante Diet?
A: My boyfriend's brother and his bride started Exante so I decided to try it too. I googled Exante Diet, ordered a month supply and told my boyfriend. He was very sceptical but agreed to support me as long as it was only for a month. By the time the month was up, I had lost over two stone and was already much healthier so I had his full backing to carry on.
Q: What Exante Diet plan were you on?
A: I started on Exante Diet Total Solution and move on to Exante Diet Total Solution Plus and then to Exante Diet Working Solution.
Q: What were your favourite Exante Diet products?
A: Porridge and Chocolate Shake
Q: What did you learn on the plan?
A: I love vegetables it has made me appreciate real food.
Q: How did your plan fit into your lifestyle?
A: It's not been a problem and I've cooked without tasting for my family.
Q: What are your weight loss tips?
A: Focus on the person you want to be to stay motivated – for me it was about feeling better and feeling sexy again.
Q: What exercise did you do to compliment your plan?
A: At first none as it hurt so much just moving. Then first time I walked half a mile without stopping made me proud.
Q: When did you first notice a difference?
A: After the first month everything fit better and I started to look in the mirror again. I started to feel happier and it became even easier to stick to the diet.
Q: How has your life changed since losing weight?
A: My health is better now. I can play with my grandkids and I can watch a football game without taking up two seats.
Q: What is your next goal?
A: I want to lose a little more but not rushing as I'm so happy now.
Q: Would / have you recommended Exante Diet to a friend?
A: Yes and have several friends on it now.
Ready to get started?
If you're ready to say hello to the new you, shop our range today!
Shop Our Range