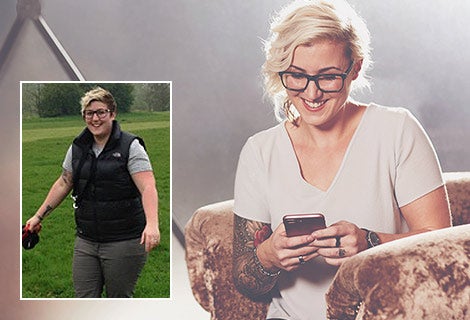 Eloise Walker
Start Weight: 16st 7lbs
End Weight: 10st 7lbs
Weight-loss: 6st*
If you feel inspired by Eloise take a look at our diet plans to see what you can achieve.
View Plans
Read about how Eloise lost her weight!
Q:What made you decide to lose weight ?
A: I was unhealthy and I was sick of having to shop in larger shops or buy men's clothing.
Q: Do you have a history of weight gain?
A: After injuring my knee as a teenager I had to give up a lot of my sports, and from 16 my job isnt very active and mainly office based so I found myself piling on the pounds.
Q: What was the key trigger for starting this weight loss journey?
A: My clothes were not fitting me and I had no self-confidence.
Q: What were your favourite Exante products?
A: Vanilla Shake, Choc Mint Shake and Lemon Bars.
Q: What have you learnt during your weight loss journey with Exante?
A: To monitor what I eat and make healthier life choices.
Q: How did your plan fit into your lifestyle?
A: Perfectly, the simplicity of the shakes and bars made it easy to fit around work.
Q: What kept you motivated?
A:The losses and extra energy I now have.
Q: What exercise did you do to compliment your plan?
A: 20 minutes of light exercise of cardio and weights
Q: When did you first notice a difference?
A: I tried my holiday clothes on from 6 months before and they fell off!
Q: How has your life changed since losing weight?
A: Exante has taught me how to make healthier choices, and how to mointor what I eat. Thanks to Exante im full of energy and have all my confidence back, I now have the confidence to rock out on the beach in a bikini! Exante has changed my life and now I am the first to agree to an evening out where as before I would hide away in suits and baggy clothes, but thanks to the weight loss I will wear more fitted, feminine clothes. The support of the Exante team and group is phenomenal and i'm ecstatic to have reached my goal and succesfully maintained it. I am no longer scared to look in the mirror, thank you exante.
Q: What can you do now that you couldn't or wouldn't do before?
A: Wear a bikini, or a dress or feminine fitted clothes from the high street shops.
Q: Would / have you recommended Exante to a friend?
A: Without a doubt.
Ready to get started?
If you're ready to say hello to the new you, shop our range today!
Shop Our Range