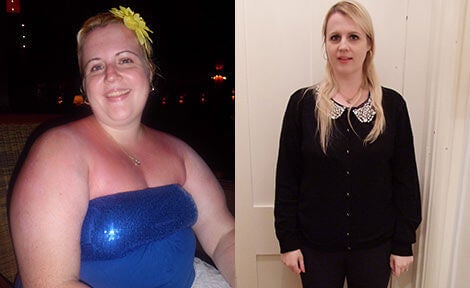 Emma Sherlock
Start weight: 19st 8lbs
End weight: 9st 8lbs
Weight-loss: 10st*
"It's easy to fit into your lifestyle and the products are filling and tasty."
*Weight loss results may vary and are different for each individual.
View Plans
Read about how Emma lost her weight!
Q: What was your weight loss motivation?
A: I had a job interview and couldn't find a shirt to fit me.
Q: What made you choose Exante Diet?
A: The online success stories
Q: What Exante Diet plan were you on?
A: Exante Diet Total Solution
Q: What were your favourite Exante Diet products?
A: Hot Cross Bun Bar, Double Chocolate Bar, Chocolate Shake and Pasta, Ham and Mushroom soup
Q: What did you learn on the plan?
A: It's easy to fit into your lifestyle and you can lose the weight you want if you stick to the plan.
Q: How did your plan fit into your lifestyle?
A: Very easily as you can have you 3 food packs during the day.
Q: What are your weight loss tips?
A: Keep thinking about how far you've come – I experienced amazing weight loss after just one week.
Q: What exercise did you do to compliment your plan?
A: I started walking and swimming.Q: When did you first notice a difference?
A: In week three being able to wear a pair of jeans that I hadn't been able to fit into in four years.
Q: How has your life changed since losing weight?
A: I can now buy and wear a size 12-14 pair of skinny jeans with a pretty top and I look and feel amazing. I've had friends walk by me and not even notice me which is mind blowing.
Q: Would / have you recommended Exante Diet to a friend?
A: Yes I have told everyone I know about the diet and a few friends have already started.
Ready to get started?
If you're ready to say hello to the new you, shop our range today!
Shop Our Range