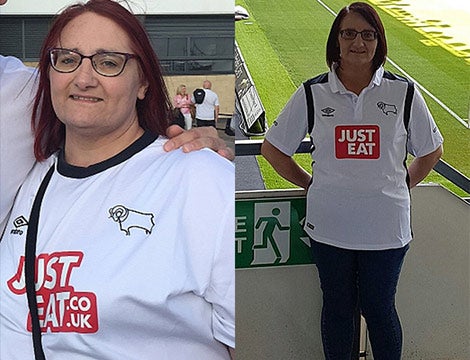 Jennifer Maskill
Start Weight: 17st 12lb
End Weight: 12st 2lb
Weight-loss: 5st 10lbs*
If you feel inspired by Jennifer take a look at our diet plans to see what you can achieve.
View Plans
Read about how Jennifer lost her weight!
Q: What made you decide to lose weight?
A: I have always been heavy and accepted that is the way I am, however I had my turnaround moment when I saw my before photo and was horrified.
Q: What are your top 3 Exante products?
A: Chocolate Caramel Crunch Bar, Sweet & Sour Noodles and Beanies Cookie Dough Coffee.
Q: What have you learnt during your weight loss journey with Exante?
A: I learnt that your body doesn't always do what you want it to, and that you have to be consistent and patient because weight loss is for life not just for New Year.
Q: How did your plan fit into your lifestyle?
A: It is so easy to replace meals with Exante as the products are so quick and convenient!
Q: When did you first notice a difference?
A: I noticed when I was given lots of compliments during Christmas.
Q: How has your life changed since losing weight?
A: I can go to regular shops and spend the same amount on a whole new wardrobe as I use to have to spend on 1 outfit from the speciality shops. I am completely Asthma free and no longer need inhalers. I have so much confidence and self-esteem, so thank you Exante!
Ready to get started?
If you're ready to say hello to the new you, shop our range today!
Shop Our Range