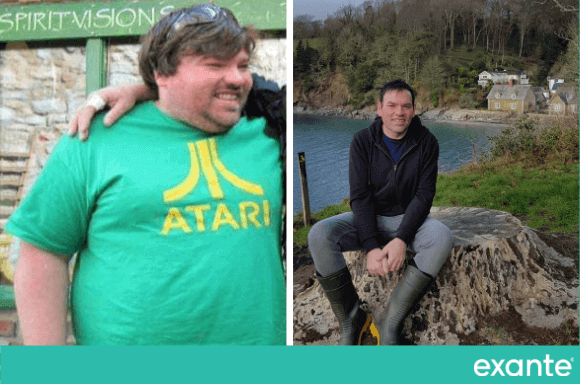 John Landy
Start Weight: 19st 9bs
End Weight: 13st 2lbs
Weight-loss: 6st 7lb*
If you feel inspired by John, take a look at our plans to see what you could achieve.
View Plans
Read about how John lost his weight!
Q: What made you decide to lose weight?
A: I decided to lose weight as I was hurting after work due to the nature of my job as a carpenter. I also have a little boy and was avoiding doing activities with him due to my size. Now we are roller coaster addicts and had a ball when we went to Legoland!
Q: How did Exante fit into your lifestyle?
A: Being a tradesman, the Exante diet suits my lifestyle perfectly! I found the diet very easy to follow and the products were so convenient, especially as I am not exactly a chef in the kitchen! I usually have a shake at 6am, another shake at 1pm and a bar later on in the day.
Q: Do you remember when you first started to notice you'd lost weight?
A: Within just a few weeks, I lost a stone and my clothes were dropping off me!
Q: Do you have any advice for someone starting their journey with Exante?
A: Stick to the plan as best you can, and have your products at regular times so you get used to the food routine. And don't forget, drink plenty of water! Every time I'm hungry I either have a bottle of sparkling water or a coffee!
Q: Do you have any top tips on how to enjoy Exante products?
A: I like to add a bit of coffee to the almond and vanilla shake!
Q: What have you learnt during your journey with Exante?
A: I have learnt to be mindful around food and drink and not shovel any old thing down my neck. I was a right snacker!
Q: What helped you to stay motivated?
A: The thought of going back to living the weight-restricted life that I was leading before Exante has kept me going. I'm never going back there. And I need to stay on track with my weight loss for my little boy!
Q: How has your life changed since losing weight?
A: It has changed my life tremendously. As I work in a physically demanding job, being healthier and lighter makes my job much easier! I no longer hurt when I get home after a full day at work. Before Exante, I lacked confidence in public, but after losing weight I am happier and much more confident. I used to struggle with most physical activity before Exante. Now I walk a lot, go on adventures with my son and travel to more difficult to reach fishing spots!
The Exante diet is the best thing I have ever done. I have never felt so well and happy. I have totally forgotten about the ankle surgery I had a few years back, which before the diet used to hurt all the time. Thank you Exante.
John's Favourite Products