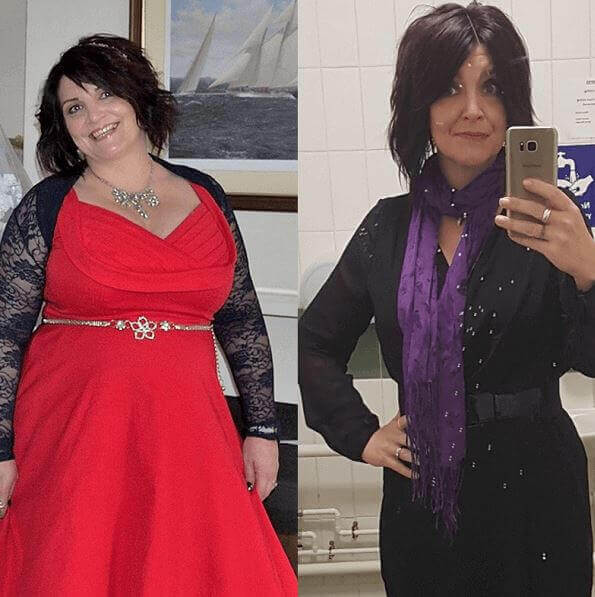 Justina Kennedy
Start Weight: 18st 3lbs
Current Weight: 11st 7 lbs
Weight Lost: 6st 10lbs
''I am going on holiday soon for the first time in more than 3.5 years, and have bought a size 12 tankini, not overly impressive as an achievement, but man do I feel good in it!!!'
View Plans
Read about how Justina lost her weight!
Q: What is your main motivation for losing weight?
A: Being comfortable in my own skin.
Q: How did Exante fit into your lifestyle?
A: It made things easier, no having to plan shopping, cook meals, or pack lunches, simple! I was lucky, my husband was so understanding and supportive, so at the start when it was really tough, he did his own shopping and cooking, and didn't eat in front of me.
Q: When did you first notice a difference?
A: A real difference was after 2-2.5 stone.
Q: How has your life changed since losing weight? Tell us your story.
A: I was in a really bad place, I have always been overweight, mostly sort of ok with it, but after a horrendous couple of years and culminating in a massive car accident and then a redundancy, I was at the bottom of a very dark hole. I suffer from anxiety and depression, and I was just getting bigger and bigger, eating and drinking too much. I finally plucked up the courage to research strict diets, and ordered Exante and some scales. I had always sort of sat between about 13st and 15st (I'm 5ft 4"), but I was horrified at the 18st 3lbs that stared back at me.
It's been a tough road for me, I love food and wine, but I needed and wanted not to be so big just a little bit more. When I started to feel my clothes were getting looser it gave me a boost, but I still found it hard as the road seemed so very long, especially when my losses were 1 or 1.5lbs, but all of a sudden I was half way through, and the time to go was less than the time already done. Then the physical results really started to show, all of the size 20-24 clothes were massive on me and even my old size 14 and 16 clothes were too big, and I finally threw out all of the massive stretchy, cheap clothes I had panic bought "because they might fit". I have now lost 6st 10lbs, with 16lbs to go to reach a "normal" bmi, I have never been lighter than I am now, I am wearing a 12 easily, and some size 10 in some tops. I have lost more than 12" of my chest, waist and hips, and am honestly buzzing! I am so much happier, so much better able to deal with the anxiety issues I have as I don't have the "they are judging me for being fat and lazy" thoughts when I meet new people. I am going on holiday soon for the first time in more than 3.5 years, and have bought a size 12 tankini, not overly impressive as an achievement, but man do I feel good in it!!! I imagine the last stone will take a little longer after my hols and Christmas, but I know Exante will help me get there, and stay there! P.S my cat has more room on my lap, A LOT more room on my lap, it's amazing!
Ready to get started?
If you're ready to say hello to the new you, shop our range today!
Shop Our Range