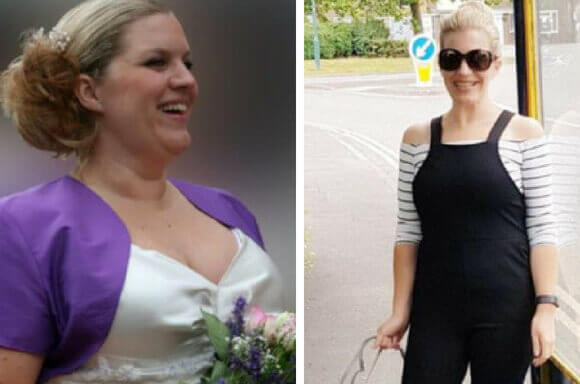 Laura Birch
Start Weight: 14st 12lbs
End Weight: 9st 10lbs
Weight-loss: 5st 2lb*
If you feel inspired by Laura, take a look at our plans to see what you could achieve.
View Plans
Read about how Laura lost her weight!
Q: What made you decide to lose weight?
A: I'd always tried to lose weight but would lose a stone and then struggle to keep going. This was something new for me. I wanted to wear clothes I loved and I was fed up of feeling tired and unfit.
Q: How did Exante fit into your lifestyle?
A: When I started I did Total Solution and was very committed and focused with that. As time has gone on I've done Man Plan and Flexi Solution and I count calories. I always make sure I'm properly fuelled to keep up with my training plan. Plus it's very handy to grab a bar when you're out and about!
Q: How has your life changed since losing weight?
A: I've taken up running which was unthinkable before. I used to try when I was bigger but it was really tough. It's not easy now but I can tell I'm improving! I feel like a different person and I have more confidence. Plus, I love being able to buy clothes I want and to indulge my love of fashion.
Q: What have you learnt during your journey with Exante?
A: I learned that weighing myself every week was important. Some people leave it months and then step on the scales and realise they've gained weight. This way you can do something about it straight away before it becomes a bigger problem. then decide if I'm really actually hungry or not.
Laura's Favourite Products