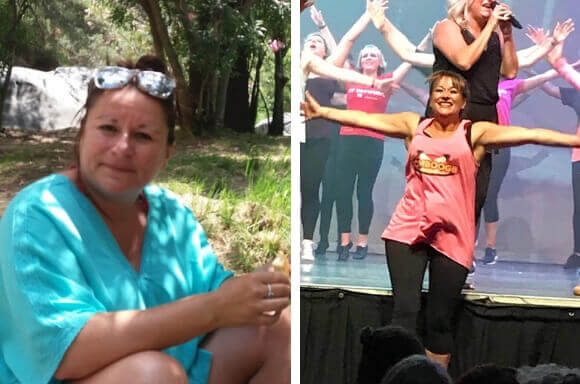 Leanne Atkins
Start Weight: 12st 9lbs
End Weight: 10st
Weight-loss: 2st 9lb*
If you feel inspired by Leanne, take a look at our plans to see what you could achieve.
View Plans
Read about how Leanne lost her weight!
Q: What made you decide to lose weight?
A: Back in November 2017 I was suffering severe stress and exhaustion. After going to the doctor I was told I had high Blood Pressure and needed to get it down as soon as possible and was signed off work for a while. I started an adult tap class and was invited to take part in several numbers in a musical show at our local large theatre....... one of those numbers included wearing a gold sequin short playsuit! Well that certainly gave me the motivation to lose weight, with the high blood pressure on top.
Q: How did Exante fit into your lifestyle?
A: It's been very easy actually. I still allow myself the odd treat and day off. I don't miss out. If I am at a special event, then I just get straight back on plan the following day. It's about not giving up.
Q: How has your life changed since losing weight?
A: My life has changed immeasurably. My confidence has literally soared. I've gone back to ballet and tap classes which I absolutely love, along with Tomboogie classes, and I've taken part in a massive show in front of 800 people!!! I never thought I'd get back on a big stage. I've literally got back into clothes I've not worn for years (and some new ones of course)! My blood pressure is back to normal and my fitness levels are where they should be for a healthy 47-year-old. I now feel like "me" again and it feels great to be back.
Q: What have you learnt during your journey with Exante?
A: I've learnt to shake my head to the left and then to the right and say no - to food!!!! Some days will be harder than others, but if you keep ploughing on you will reach the goal you want to!
Leanne's Favourite Products