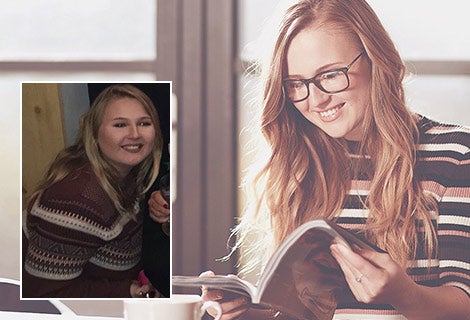 Lily Roberts
Start Weight: 14st
End Weight: 10st
Weight-loss: 4st*
If you feel inspired by Lily take a look at our diet plans to see what you can achieve.
View Plans
Read about how Lily lost her weight!
Q: What made you decide to lose weight ?
A: I decided to lose weight because I got to a point where I felt so uncomfortable and not myself anymore. I was only wearing black clothing and wasn't happy with the way I looked.
Q: What made you choose Exante?
A: My mum had done Exante in the past and I saw that it worked!p>
Q: What were your favourite Exante products?
A: Sweet and sour noodles, jam and yoghurt bar, toffee, raisin & nut bar and sausage mix.
Q: What have you learnt during your weight loss journey with Exante?
A: I learnt that drinking water is everything! The more you drink the more you shrink!
Q: How did your plan fit into your lifestyle?
A: Having the bars were nice and convenient for work, no hassle and easy to follow!
Q: What kept you motivated?
A: Seeing my loss week by week kept me motivated and so did the Exante support group!
Q: What exercise did you do to compliment your plan?
A: I didn't do any exercise but I do have a quite active job. Being a beautician I am doing massages and rushing around a lot!
Q: When did you first notice a difference?
A: I first noticed a difference around a stone and a half down! So about 6 weeks.
Q: How has your life changed since losing weight?
A: I have a lot more energy now! I don't feel so tired anymore and I am a lot more confident! I have bought some more clothes and none of them are black!! I don't feel like I need to hide behind big baggy clothes anymore!
Q: What is your next goal?
A: My next goal is to maintain my weight and to find myself a lovely man!
Q: Would / have you recommended Exante to a friend?
A: I have recommended Exante diet to so many people who ask me about my weight loss!
Ready to get started?
If you're ready to say hello to the new you, shop our range today!
Shop Our Range