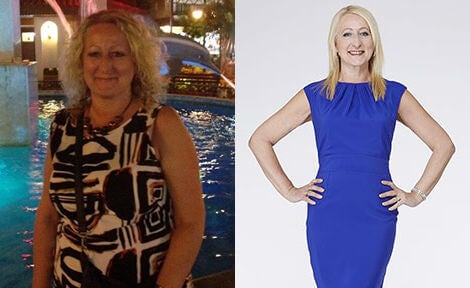 Lynn Masterman
Start weight: 15st 1lb
End weight: 10st
Weight-loss: 5st 1lb*
"Food doesn't control me anymore. I'm 50 but I feel about 30 since losing the weight!"
*Weight loss results may vary and are different for each individual.
View Plans
Read about how Lynn lost her weight!
Q: What was your weight loss motivation?
A: I bought a dress for a special occasion that was a little tight and I had 2 weeks to fit into it nicely! After doing this I felt motivated to carry on and get to my goal weight!
Q: What made you choose Exante Diet?
A: The offers.
Q: What Exante Diet plan were you on?
A: Total Solution for a couple of weeks and since then Working Solution.
Q: What were your favourite Exante Diet products?
A: Chocolate Mint Shakes – but all really! Also Chocolate Orange Bars, Red Bean Chilli, Pasta Carbonara, Thai Chicken Soup and Pasta, Ham and Mushroom Soup.
Q: What did you learn on the plan?
A: I learnt that I can live on less calories per day and that portion size does matter!
Q: How did your plan fit into your lifestyle?
A: Very well – I have a shake for breakfast at work, at lunchtime a soup and in the evening I have one of the meals but if it's an exercise day I add lean meat or fish to the meal.
Q: What are your weight loss tips?
A: Take a before picture and keep referring back to it. I had mine posted up on a communication board at work! When I started to lose weight it encouraged me to stick at it and lose more.
Q: What exercise did you do to compliment your plan?
A: Zumba (including toning and step), body pump and body combat classes, legs bums and tums.
Q: When did you first notice a difference?
A: After 2 weeks I could fit into the Lipsy dress I had bought which had been very tight!
Q: How has your life changed since losing weight?
A: I feel so much healthier and am able to shop anywhere for my clothes! I bought a Lipsy dress for a trip to the races in size 18 – it was very tight. I had 2 weeks to the event so I asked my husband to buy me the Exante 2 week pack – I haven't looked back since – I lost 11lbs in 2 weeks! The dress fit! Been through tough times in the past couple of months with my youngest son being diagnosed with cancer but still continued to lose weight steadily whilst caring for my son. I still have 8 lbs to lose but I know I will do it. I eat to live now and not live to eat!
Q: What is your next goal?
A: To continue maintaining my weight.
Q: Would / have you recommended Exante Diet to a friend?
A: Yes I have recommended my friends.
Ready to get started?
If you're ready to say hello to the new you, shop our range today!
Shop Our Range