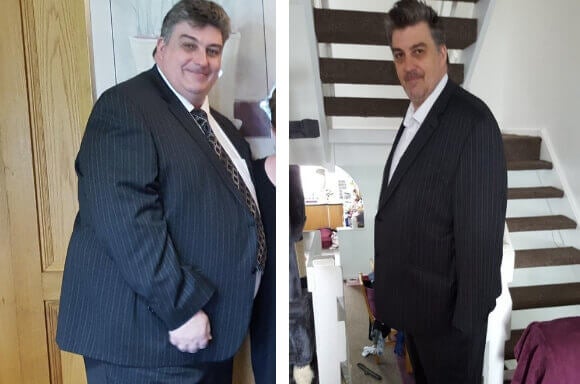 Martin Miller
Start Weight: 23st 10lbs
End Weight: 19st 7lbs
Weight-loss: 4st 3lb*
If you feel inspired by Martin, take a look at our plans to see what you could achieve.
View Plans
Read about how Martin lost his weight!
Q: What made you decide to lose weight?
A: My day of reckoning had been building up for several weeks. Over several weeks and indeed months I had been suffering with severe heel pain and ankle pain due to plantar fasciitis, of course not helped by my weight. This was also impacting on my ability to do my job and had been noted by my managers. Pretty much the icing on the cake was a photograph of myself and my brother, sister and cousins, where I was definitely the Fat Brother/Fat Cousin and definitely the fattest person in the room. The final straw was weighing myself and finding I was nearly 24 Stone. That was the day I decided One Day was going to become Day One.
Q: How did Exante fit into your lifestyle?
A: Relatively easy I'm able to just throw some bars in my bag along with a shake and my shaker.
Q: How has your life changed since losing weight?
A: I no longer suffer from chronic foot pain, with every step I used to get a shooting pain through my ankles, they used to hurt 24 hours a day. I could hardly walk. I had taken time off work with foot pain and it was that bad my employer was looking at medical redeployment as I was unable to carry out my job. Now I have very little pain; I have a smaller uniform that fits; I have more energy and I sleep better at night. I no longer have sores on my legs!
Q: What have you learnt during your journey with Exante?
A: It's not a diet it's a journey.!