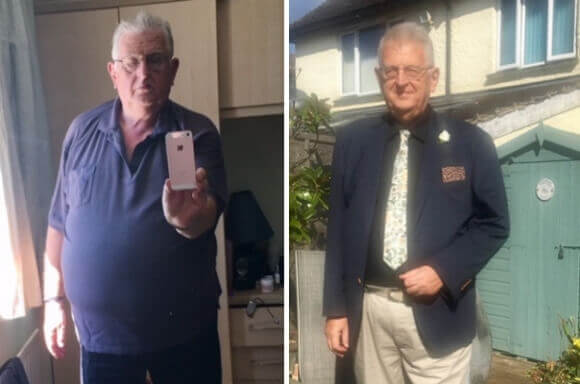 James Hardiman
Start Weight: 23st
End Weight: 19st 6lbs
Weight-loss: 3st 8lb*
If you feel inspired by James, take a look at our plans to see what you could achieve.
View Plans
Read about how James lost his weight!
Q: What made you decide to lose weight?
A: My diabetic nurse told me that unless I lost weight and improved my blood sugars the next step was insulin. I have two beautiful grandchildren and I want to see them grow up, and to be fit and healthy for them. I also want to be an example to others that obesity and Type 2 Diabetes is conquerable. And my step son is getting married to his beautiful fiancé at the end of September, and I wanted to look smart for their wedding. Lastly, this summer my wife, Susan, and I went to a wonderful jazz dance festival (Jazz aux Sources) in France. We really enjoyed it, but I couldn't dance because I was on crutches and too fat. We've already booked for next year - I'm determined to learn to dance over the winter, and to do that I need to loose eight stones.
Q: How did Exante fit into your lifestyle?
A: Very easily. I've told everyone what I am doing. My son & his fiancé are even cool that I'll just be eating a bar and drinking fizzy water at their wedding.
Q: When did you first notice a difference?
A: Almost immediately: I take my blood sugars every day and weigh every day: I have the charts. And it wasn't long before I had to tighten my belt. Also, before I couldn't walk a mile. Now I can walk more than 5 miles.
Q: How has your life changed since losing weight?
A: Over the last five years I have been in hospital with attrial fibrillation, had surgery on both feet, and torn my knee ligaments. I had completely given up walking, not even going round the supermarket with my wife. If I tried to go for a walk, I would have to sit down three or four times in the space of a mile. My wife and I are members of two beautiful gardens: Exbury gardens in the New Forest and West Dean Gardens in Sussex. I could hardly see any of them - at Exbury I had to take the electric buggy. Recently Susan and I did a 3.5 mile walk round Exbury, and walked the entire length of West Dean. The other day I did a 5.5 mile Nordic Walk locally, without needing to sit down once. Walking and hiking in the countryside are my favourite pass-times. Exante has quite literally given me my life back!
Plus, my blood sugars have gone down from 12 to 4.3, my HbA1C has gone down from 71 to 42, and my doctor has taken me off one diabetic medication completely, and cut my heart medication in half!
James's Favourite Products