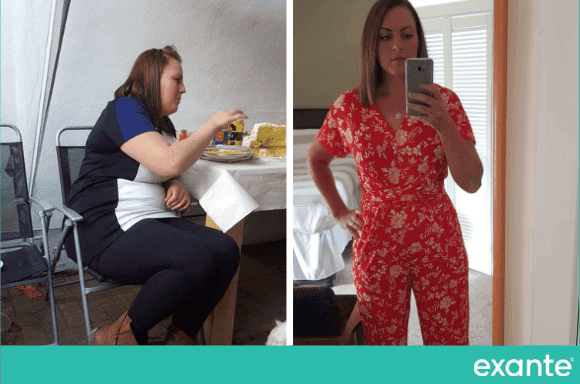 Lucy Hyde
Start Weight: 18st 2lb
End Weight: 12st
Weight-loss: 6st 2lb*
If you feel inspired by Lucy, take a look at our plans to see what you could achieve.
View Plans
Read about how Lucy lost her weight!
Q: What made you decide to lose weight?
A: After my daughter I had gained 4 stone in 2014. I successfully lost it all on Exante and maintained, which was amazing, until I fell pregnant with my son Felix. I piled on the pounds and after I had him I ended up in size 20 clothes, which were tight!
I would try to keep my head down and avoid eye contact when out, and it had started to impact family life. I would binge on multipack crisps and eat takeaways often, my portion sizes were out of control. I didn't seem to have a filter when it came to what I was eating. My health was suffering with painful knees and I couldn't walk very far without being out of breath. With my self confidence at an all-time low, it was now or never!
Q: Do you remember when you first started to notice a difference?
A: About one month in, it started becoming apparent I had dropped a dress size and my family had started to notice and comment on my weight loss!
Q: How did Exante fit into your lifestyle?
A: It fit very well into my lifestyle. When I'm at home I have my shakes and my meals, and when my family sit to eat I will sit with them and have my Exante so I don't feel excluded. Bars are my lifesaver for not getting caught hungry while out.
Q: Which part of the Exante diet did you find easiest?
A: It is all measured out - no calorie counting or being able to sneak a few extra bits as it was all there in the 3 packs.
Q: What advice would you give to a friend starting Exante?
A: Get through the first week - after that the hunger and cravings do start to lessen. Use the Facebook group for support and encouragement. Order one or two of each product to find what you like, everybody's tastes are different. Add herbs and spices to your own taste. I loved the shakes blended with lots of ice - they were great over the Summer to cool down! Keep in mind why you are doing it when the cravings are strong.
Q: How has your life changed since losing weight?
A: When at my heaviest I found my energy levels were low and I found it hard to play with my children, especially on the beach running around. I wanted to be a mum that could keep up with them both! Before losing weight I would be very self-conscious. We had just moved to a new area and I was reluctant to go and meet new people because of the way I felt. Since losing weight I have joined a local bootcamp and made lots of friends. I now love exercising and getting out for walks with the children!Q: What have you learnt during your journey with Exante?
A: I have learnt that weight IS temporary if you want it to be. Hard work definitely pays off and using the Facebook support group is a great way of talking to people who go through the same struggles.
I would just like to say thankyou to Exante and everyone who has supported me through my weight loss. Without it I wouldn't have made it this far and have the confidence and energy I now have.