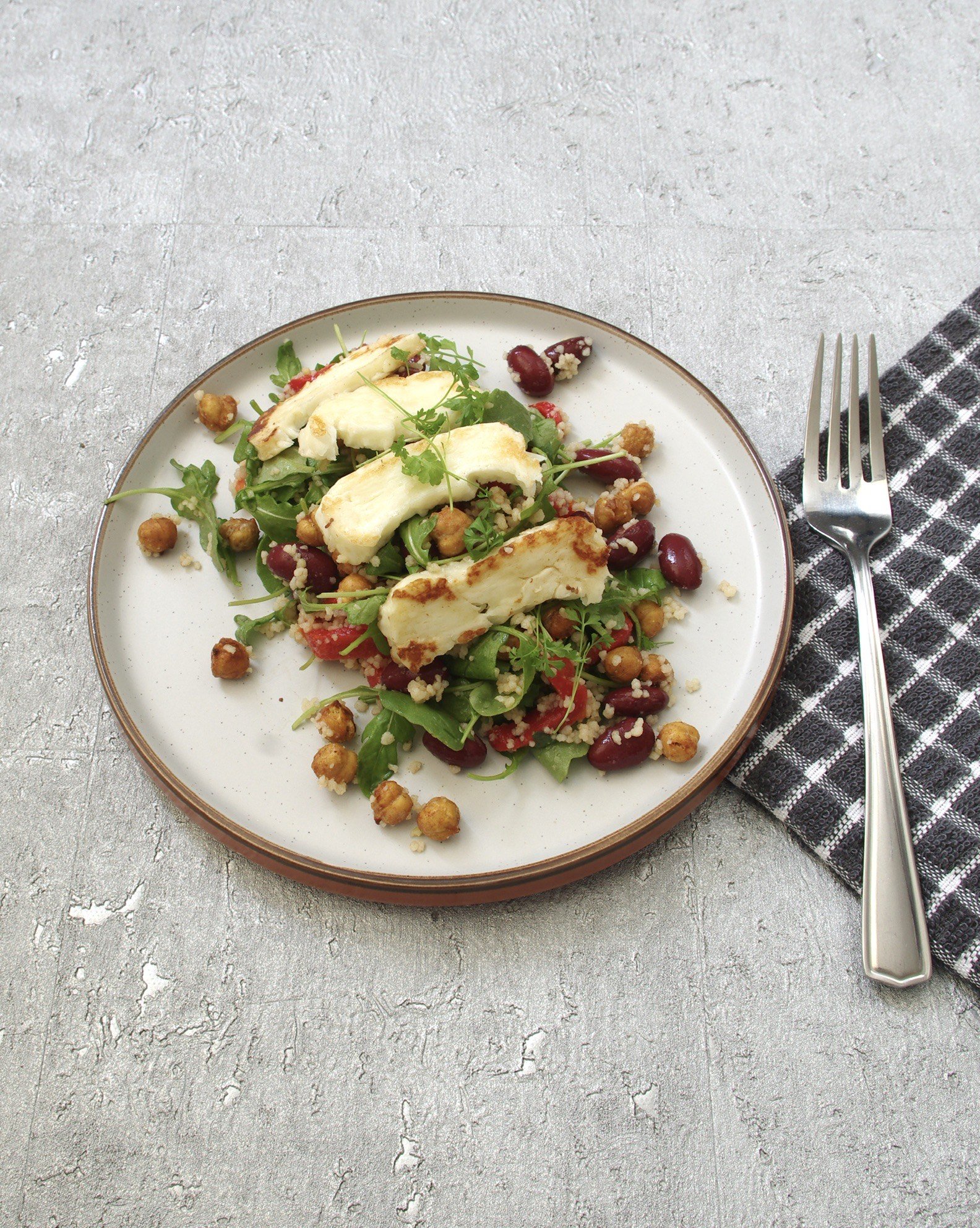 Ready in 30 minutes 
Serves 1 person 
197 – 279 calories. See tips 
21g Protein  
16g Fat  
24g Carbs 
Ingredients
60g Halloumi 30% low fat

 

50g Cous cous 

 

50g Roasted red peppers

 

75ml vegetable stock

 

10g Kidney beans

 

10g chickpeas 

 

25g Rocket salad

 

1kcal spray

 

Balsamic vinegar 

 
To finish
Balsamic vinegar

 

Chopped parsley or cress

 
Method
Roast chickpeas, spray with 1kcal and place in the airfryer or oven for 10 mins.

 

Place 50g couscous in a heat proof bowl, add 75ml of boiling water (2 parts couscous, 3 parts stock or water). Cover and stand for 5mins. Stir with a fork to free grains before serving.

 

Slice roasted red peppers.

 

Slice halloumi 0.5cm thick 15-20g each 1kcal spray and grill medium heat

 

In a bow mix all the ingredients together, except the haloumi cheese. Place in the middle of your plate. Place grilled cheese on top and lightly drizzle with balsamic vinegar.  

 
Tips
If you remove the cous cous, this dish will still pack 17g of protein and will be under 200 kcals!

 

Opt for the roasted red peppers not in oil!

 

Read the labels for halloumi: the calories can vary between brands and supermarkets.