This recipe is an inventive way of incorporating fruit into your diet. Add a little peanut butter for texture and granola for crunch – both high in fibre and protein.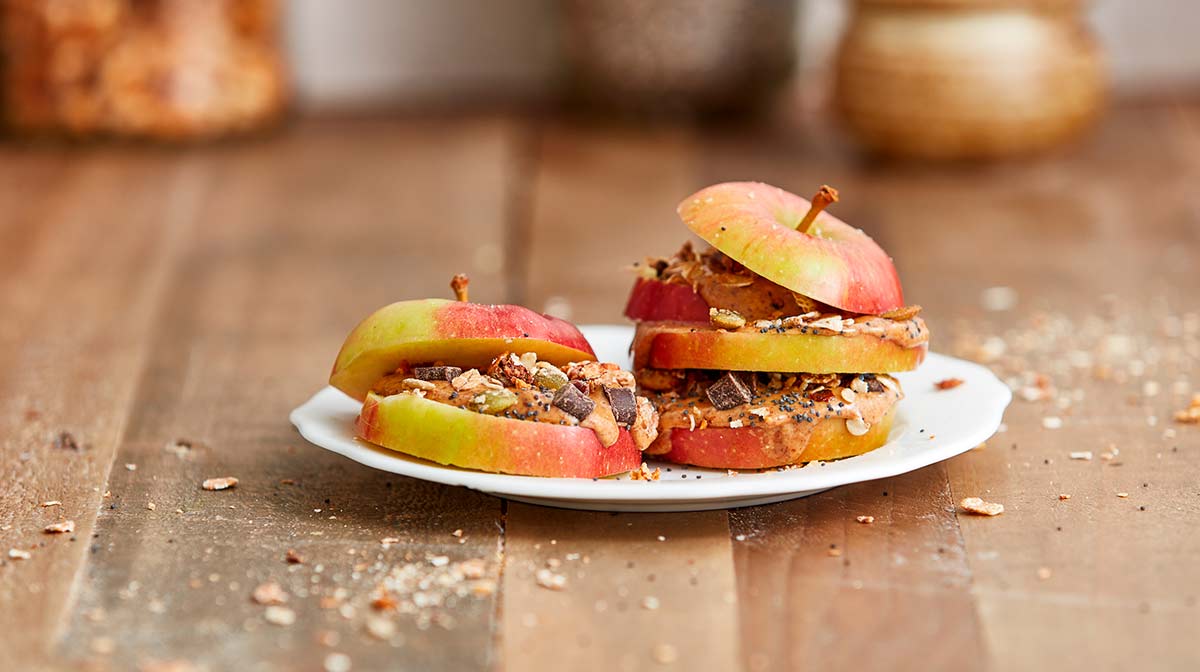 Prepped in advance, these are great for a snack on-the-go to fuel a busy day
Instructions
2 small apples, cored and cut crosswise into 1/2-inch thick rounds
1 teaspoon lemon juice (optional)
3 tablespoons peanut or almond butter
2 tablespoons chocolate chips or cacao nibs
3 tablespoons low sugar granola
Method
Start by brushing the apples slices with lemon juice to keep them from turning brown.
Spread one side of half of the apple slices with peanut or almond butter then sprinkle with chocolate chips and granola.
Top with remaining apple slices, pressing down gently to make the sandwiches.
Discover More Healthy Recipes
Check out more healthy recipes in our blog section or download any one of our three recipe eBooks, now available to download for FREE. 

Inside you'll find everything you need; from healthy, easy-to-follow recipes using seasonal ingredients, expert articles on the benefits of exercise, and a balanced Flexi Solution meal plan developed by Exante expert nutritionists. You'll even get to meet the team and find out how they treat themselves without food!
There's no better time to transform your diet for Summer. We want to inspire you to put the spring back in your step and start your journey to a healthier, happier you.
Start your journey with Exante today and see what you can achieve by summer. Keep in touch with us @exantediet and send us your transformation photos for the chance to win a holiday and be crowned our June Slimmer of the Month!