Looking for a new dessert to level up your summer dishes?  Try our new go-to pud, BURST Vimto® jelly! The tastiest way to finish your meal…
BURST Vimto® is the ultimate way to kick those sweet cravings and feel extra fruity- minus the calories. Opt for our Vimto® jelly for a light, low calorie dessert – an unmistakably fruity delight that's bound to bring back all the nostalgia!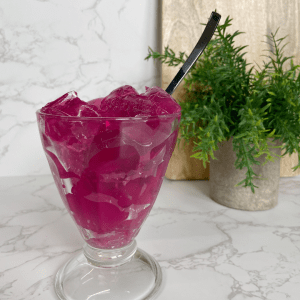 Our NEW BURST Vimto® is just like the rest of our wonderful BURST range- a treat without the cheat. Stay hydrated and refreshed with our low calorie, 3-in-1 benefit multivitamin drink. The perfect low sugar alternative, BURST Vimto® is sure to be your new go-to this summer.  
Ingredients:
500ml water

 

x1 BURST Vimto®

sachet

 

1 sachet gelatine (12g)
How to make BURST Vimto® Jelly:
In your exante shaker, combine BURST Vimto

®

with 500ml water and shake until dissolved. 

 

Pour the BURST Vimto

®

mixture into a pan and gently warm it over a low heat.

 

Once the mixture starts to steam, add in a sachet of gelatine and whisk over the heat until it's completely dissolved. 

 

After everything has dissolved, pour the mixture into a jelly mould. Leave the mould in the fridge to set overnight. 

 

The next day, serve up and enjoy!