Spring is in the air and with the (slightly) warmer weather around, we're all trying to look for lighter and healthier options to rustle up in the kitchen. This delicious vegetable omelette is taken from our Spring ebook and is the perfect brekkie, brunch or lunch – or even dinner for any day of the week. Plus, it is super simple to make!
Did you know that not only are eggs a great source of protein, but that they are full of nutrients that support heart health too?
Vegetable Omelette Ingredients
Serves 2:
Low-calorie cooking spray
3 medium eggs
100g baby spinach
Half a courgette, sliced
2 tablespoons of low-fat feta cheese, crumbled
5 cherry tomatoes, sliced into quarters
1/2 ripe avocado
Salt & black pepper to taste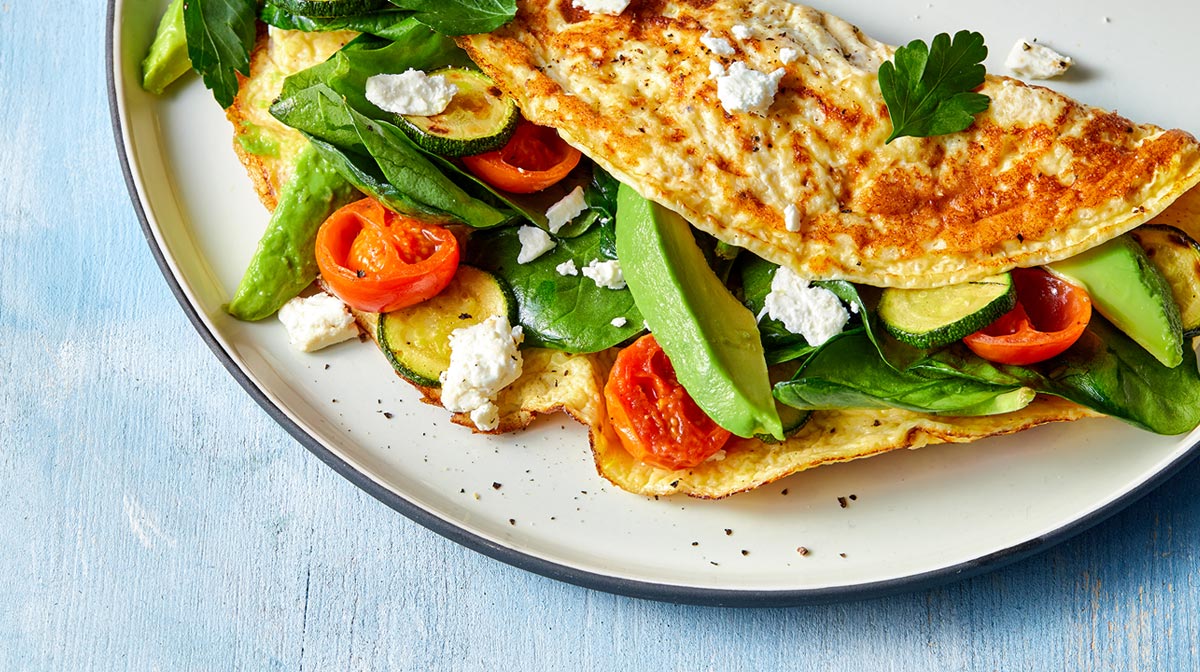 Method
In a medium frying pan, spray low-calorie cooking spray and heat over medium heat.
Add courgettes and cook until softened. about 5-6 minutes.
Remove from the pan and set to one side.
Spray a little more low-calorie cooking spray in the frying pan and heat.
In a bowl, whisk together the eggs and a little salt and black pepper.
Pour the eggs into the preheated pan and cook until the edges have begun to set – about 6-7 minutes.
Take a small rubber spatula and gently run around the edges of the eggs to release the omelette from the pan.
Carefully place on to a plate.
On one half of the omelette, lay the courgettes, spinach, feta, avocado and tomatoes. Fold the other half over the top and enjoy!
Nutrition
214 calories
14.7g fat
11.5g carbs
10.9g protein
7.3g fibre
Have you downloaded our FREE guide to a healthier Spring yet? It's packed with more healthy recipes, home workouts, nutritional advice, transformation stories and more! Get your copy HERE!