A katsu from that well-known chain of restaurants can be around 1000 calories, our low calorie version using turkey is easy to recreate at home and packs all the flavours of Japan, AND is less than 400 calories per serving.
Servings: 6
Turkey steak is perfect for making Katsu and is low in saturated fat.
Ingredients
1 tbsp olive oil
1 onion, finely chopped
1 garlic clove, crushed
1 tbsp mild curry powder
1 tbsp cornflour
1 tbsp low-sugar tomato ketchup
1 tbsp soy sauce
1 chicken stock cube, dissolved in
400ml boiling water
1 tsp Garam masala
1 kg turkey steaks
2 tbsp wholegrain flour
1 egg, beaten
50g breadcrumbs
30g wholemeal rice
20g coriander, roughly chopped (to serve – optional)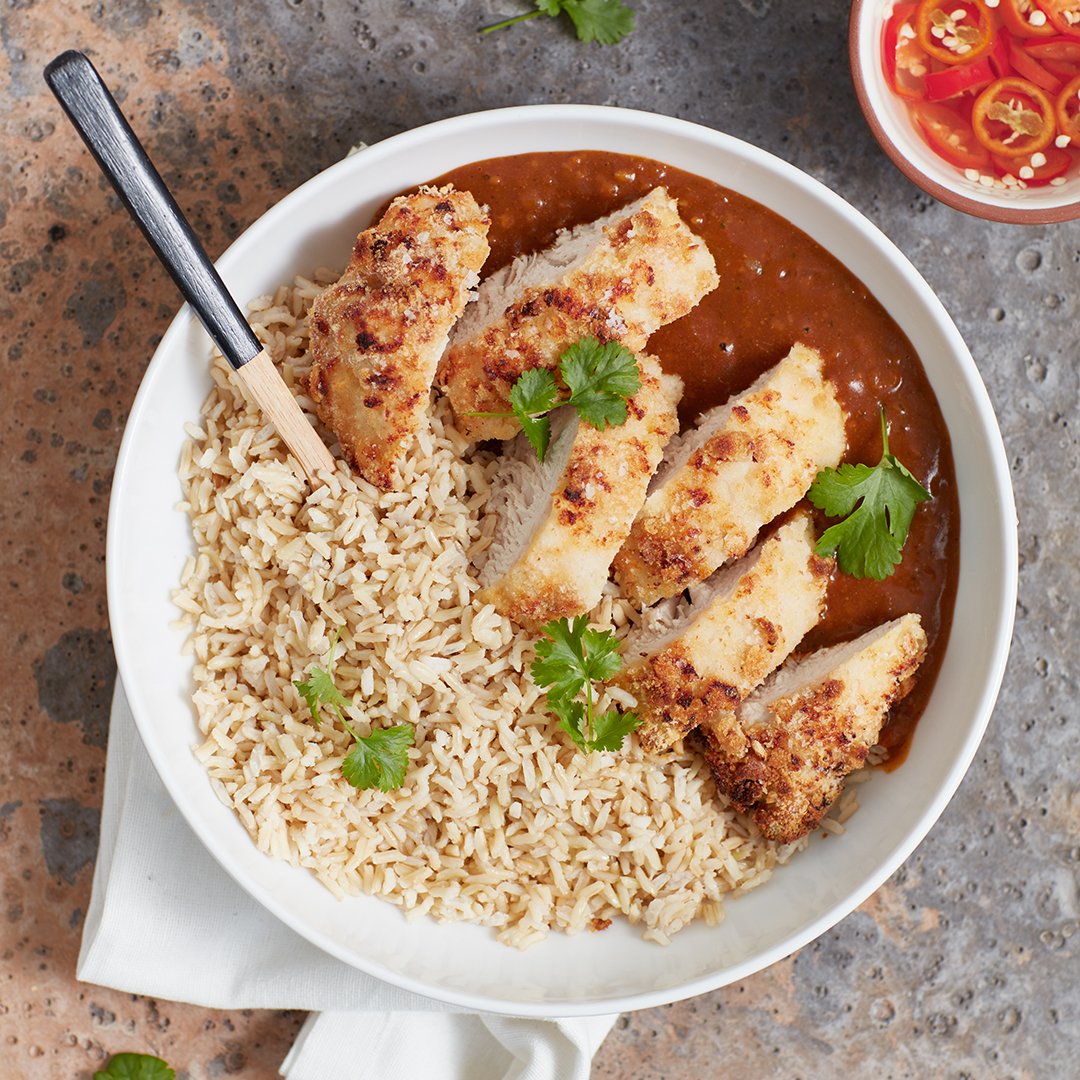 Method
Preheat the oven to 200C/180C fan/Gas 6.
Heat olive oil in a saucepan, add the onion and garlic and sweat over a medium heat for 8 minutes until soft.
Add curry powder, cornflour, ketchup and soy sauce and slowly add the hot stock, stirring continuously.
Simmer for 20 mins until the sauce resembles the thickness of single cream. Stir through the Garam masala.
Meanwhile, sprinkle the turkey with the plain flour, dip in the egg then coat with the breadcrumbs.
Place on a baking tray lined with baking parchment and roast in the oven for 20 to 25 minutes until the turkey is cooked through and
the breadcrumbs are golden. Cut into strips.
Cook the rice (optional) according to packet instructions and serve with the turkey strips drizzled with katsu sauce and a sprinkle of coriander.
This dish will take on average 1 hour to cook.
This dish will also serve 6, and is, on average, 367 calories per serving.
So instead of the takeaway meal that is high in calories, why not make your own well-loved Turkey Katsu Curry that the whole family will love? This recipe is perfect for those following the exante 1200 diet plan, which is 2 meal replacement products a day, plus a low carb meal and a low carb snack to equal 1200 calories a day. The exante 1200 diet plan is perfect for those who want to gradually lose weight, follow a more flexible diet plan or for those who want to maintain a healthy weight loss.
Meet Maria who lost 3 stone 8lbs following the exante 1200 plan…