It's estimated that 1% of the worldwide population is vegan. While that doesn't sound like much, it's still more than 78 million people who follow a plant-based diet. Here at exante, we wanted to find the best places for those people to live, based on the percentage of restaurants and takeaways that serve vegan options. 
There's plenty to get your teeth stuck into. 
The most vegan-friendly cities in the UK
Veganuary had more participants in 2021 than ever before, with thousands of us ditching the meat and turning to nature's larder. However, with many restaurants still closed due to Covid restrictions, it could easily have been a hard diet to stick to. We've looked at Tripadvisor's 10 top-rated places for vegan food still open and delivering, helping us work out where's best to live to stay meat-free.
Luton is the best city in the UK for vegans!
First place goes to Luton for being the best place for vegans to live, with an incredible 58% of restaurants and takeaways providing vegan delivery options! With just 40 restaurants offering delivery in the city, 23 of them offer vegan options, showing just how inclusive and forward-thinking this city is. As veganism is on the rise due to health and environmental issues, the city has also started to organise a vegan fair to cater to both budding and long-standing vegans. 
Brighton grabs second place, and there's no surprise why! Their vegan festivals Vegfest and Viva, held every year, attract vegans from all over the country. In the city, a huge 77 restaurants offer delivery and vegan options, so you'll never be short for a bite to eat.
Reading takes the 3rd spot and rightfully so! This is a hidden gem for the cause, with the city's vegan scene constantly improving over the years with lots of plant-based options available. The facts speak for themselves, with over 55% of restaurants offering vegan options, which is definitely a plus for the pandemic.
Bristol and Bolton take 4th and 5th place respectively, with both offering 53% of vegan restaurants. With over half the food on offer there plant-based, there are plenty of options available for their meat-free residents. 
The UK capital has over 1,000 restaurants with vegan options
Unsurprisingly London is also one of the best cities for Vegans, taking 6th position. London embraces its vegan population by having an incredible 1,113 restaurants with vegan options! This amounts to 52% of the total restaurants in the city, meaning you're never short of tasty places to go. 
Aberdeen made it into the top 10 with over 51% of their restaurants offering vegan options, they tied with Belfast who made it into 8th place with 47 restaurants catering to vegans. 
Belfast, Derby, and Leicester secured the last places for the top 10 with over half of their restaurants offering vegan choices. 
Portsmouth is the least vegan-friendly city in the UK
Only 33% of Portsmouth restaurants offer delivery with vegan options, making it more difficult to enjoy takeaway food during lockdown in this city.
Coastal vegans here will instead have to cook for themself until restaurants reopen.
These are the best vegan restaurants in the UK
We also analysed Tripadvisor data to see which vegan-friendly restaurants in each city had the highest amount of 'excellent' reviews. So who came out on top?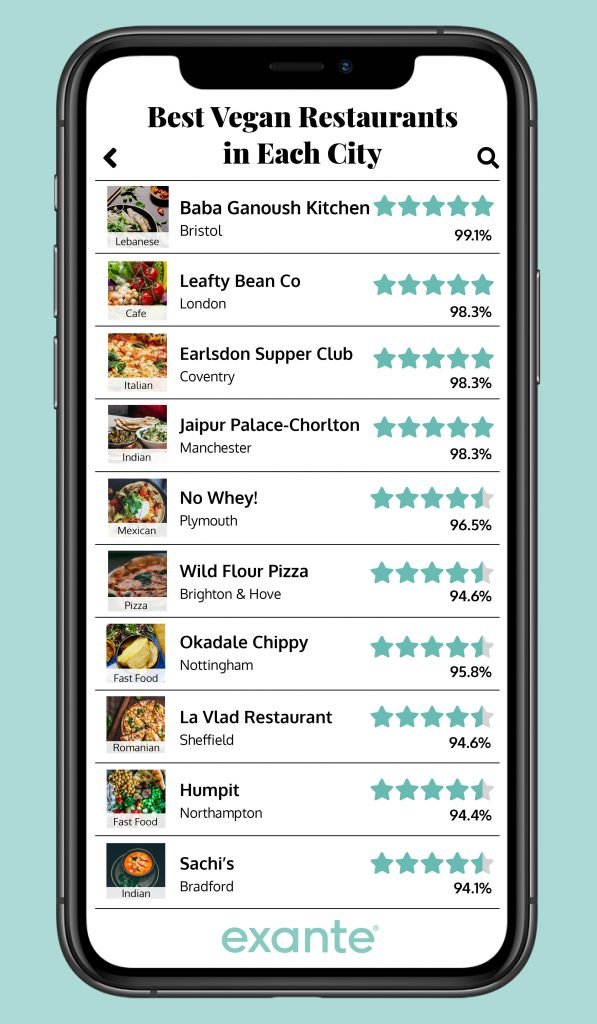 Bristol's own 'Baba Ganoush Kitchen – Jerusalem Falafel' is a Middle Eastern and Mediterranean café and juice bar that has been crowned the best vegan restaurant in the whole of the UK! Amazingly, over 99% of its reviews say that the restaurant is excellent, which is no surprise – their falafel has been named the best in the whole of Bristol! 
They were closely followed by 'Leafy Bean Co' located in London, which takes 2nd place with 98.3% excellent reviews.
Coventry's 'Earlsdon supper club' comes into 3rd place with 98.3% excellent reviews, and serves vegan takeaway boxes which must be good as they sell out quickly!
Jaipur Palace Restaurant just misses the top three with 98.2% excellent reviews. It's a vegan and veggie Indian street food restaurant where they serve Tandoori Aloo, Ragda Pattice and Chilli Tofu – and the locals can't seem to get enough of it! 
No Whey! In Portsmouth is a community-focused cafe that takes 5th place. They offer healthy and nutritious plant-based food. Its aim is to help out the local community by setting up projects to tackle food poverty.
Where in the world is it easiest to be vegan?
Veganism is growing in popularity all over the world, but some countries make it easier than others. By looking at the amount of different staple vegan foods that are imported in each country per person, we were able to work out how common and readily available these foods are for their vegan citizens. 
The Netherlands is leading the way for veganism, with even the Dutch government advising people to eat less meat. Recently, the demand for vegan food went up 51% and meat sales dropped by 9% in the country. Luckily, the country can keep up with the demand as they import a whopping 267kg of staple vegan foods per person. 
Portugal isn't far behind in 2nd place with importing 112kg of vegan food per person! They were the first country to make it law that vegan options had to be served in schools, canteens, universities, hospitals, prisons, and all other public buildings.
Argentina takes 3rd spot, importing 100.6kg of vegan food per person. Even though they are one of the biggest consumers of meat in the world, veganism is on the rise with more than 60 restaurants offering veggie and vegan options.
The UK came in at an unremarkable 25th place, but came in 6th for the highest amount of avocado imports, importing 1.7kg per person. The USA actually failed to make the top 30, coming in at 32nd place, with just 0.2kg of total vegan staple food imported per person.
It's hard to go out to eat at the moment and it's been a struggle for everyone. Whether you're a fully fledged vegan or trying to be more conscious in your diet, let us help out and deliver our delicious new plant-based meal replacements to your door. At exante we offer a wide range of delicious meal replacements with all the recommended vitamins & nutrients that can help you to reach your goal weight with simple and effective weight loss plans. Find the perfect diet plan for you and start your weight loss journey today.
Methodology
To find the Best Cities to be Vegan, we analysed the Tripadvisor data for each city, counting the number of delivery/takeout restaurants, and comparing this against the no. of delivery/takeout restaurants with vegan options to work out the percent of total takeout/delivery restaurants with vegan options. We also analysed the reviews of every vegan-friendly restaurant to see which had the highest portion of reviews classed as 'excellent', to discover the best vegan-friendly restaurants for each city. 
To find the countries with the top vegan imports we used import figures of staple vegan foods from the UN Comtrade Database, for each country. The amount in kilograms of each product was divided by the population of the countries, to work out how much of each product was imported per person. These figures were then summed for each product to calculate the total amount of 'vegan' food imported to each country per person.