We can't believe how quickly this summer is going, can you? If you're summer is in need of a little shaking up, we've got the perfect solution…
Issue 3 of The Digest!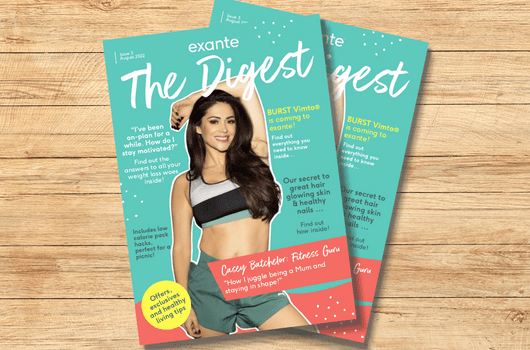 This issue is all about looking and feeling your absolute BEST. We're covering all bases from picnicking, fitness tips, our new #Askexante advice column, and even a sneak peek at our NEW BURST flavour.
And that's not all, we're also joined by Casey Batchelor our celebrity cover star as she speaks all things yoga, weight loss and Motherhood. 
From low calorie picnic Pack Hacks, to BURST Vimto® recipes, we're showing you how you can get creative with your exante products- all while staying on track!
Got a question about your diet, health or body you really want to ask? We've got the perfect solution. Say hello to our new #Askexante column, a safe space where you can ask our Nutritionist everything you want to know about your journey.
As September marks PCOS Awareness Month, we're chatting to influencer and fellow exante-lover, Carley who's sharing her experience and how she manages her symptoms.
Hungry for more? Check out our page-by-page overview of what to expect in this issue
Why Vimto

® BURST is Your New Wellness Essential

Casey Batchelor: "My life as a Mum and Fitness Guru"
Keto 101: Everything you need to know about keto
Breakfast Pouches: How to level up your Breakfast
Which Diet Plan is for Me?
Let's Get Physical
"Don't Let PCOS Define You" Carley's PCOS Advice
Our Favourite Picnic Pack Hacks
BURST into Summer with our Vimto

® Pack Hacks

Spend a Night In with exante
#Askexante: Lujain answers your questions
exante Extras & Discounts