47-year-old Alex from Dundee recently featured in our '10 Stone Lost: A Day in the Life with Alex' blog post, where he explained how he fits exante into his daily routine. He started his journey weighing 23 stone and has now lost an incredible 10 stone. Here he explains more about his motivations for starting exante, what changes he's noticed as a result and the tips he thinks you all should know!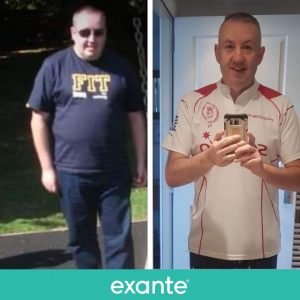 Why did you decide to start the exante 800 plan?
"I'd seen a post on Facebook that said during lockdown you'd be one of four types of people: a monk, a chunk, a hunk or a drunk- and I was definitely a chunk!" 
"My mother-in-law was using exante and suggested I try it. I'd had enough of carry all this weight around so thought why not." 
What changes have you noticed in yourself since starting exante?
"I've noticed changes in the way I was looking at food and myself. I was calorie counting and checking carbs before contemplating having anything which helped re-educate myself on food. I stayed away from processed food and went for fresh, healthier, lean choices. I even bought a FitBit and would challenge myself to reach new targets for walks every week." 
"There were also lots of non-scale victories. I saw a change in my skin- it was no longer greasy and spotty and the size of my double chins reduced. I wasn't breathless walking upstairs and was able to bend down properly without having to heave myself up."
"Lots of little positives that all add up to a huge win." 
What are your top tips?
"The best hint I can give to anyone starting exante is to read the 'How it Works' eBook which is really informative and full of great ideas."
"Don't do daily weigh-ins, do a weekly one. I do mine on a Sunday morning and record my weight either on a manual chart or an app like Monitor Your Weight. You might not think you're losing, but tracking it will always give you a great indication and motivation."
"Join the exante Official Facebook Group. I couldn't have done this without the help, motivation and positivity of the group. There are lots of great support and people all wanting to help each other succeed."
"It's actually really humbling and inspiring to see some of the stories and photos in the group."
"There is also another group, 'exante 200 cal meal ideas'. That's great fun too, lots of hints, tips and ideas on meal options. Some people are so creative and it's fun trying to recreate some of the meals. My favourite is the Thai fish cakes, definitely a winner!" 
What helped you stick with the diet?
"The key to sticking with exante is variety and trying something new, whether it's a new flavour of shake or making a shake into biscuits or muffins. Do something different so it's not all the same."
"You need to have something to look forward to and it's fun trying them out!" 
"The hardest part was the first 2 weeks. Your body is changing and adapting to the lifestyle change so be prepared for this. I got through this by drinking more water and having cooked chicken breast in the fridge so if I got hungry would have a few slices or a boiled egg". 
What stands out from your exante journey?
"The most humbling part of the whole journey for me is the amount of positive comments I have received from people in the Facebook Group and my colleagues at work". 
"Over 20 of my colleagues at work are also now on the plan and we all catch up and see how it's going. It's great validation for exante and for all the weight I have lost. I am not a dieter by any standard but it works!" 
"Thank you exante!" 
To learn more about Alex's favourite products, read his Day in the Life blog post here. Start your exante journey today with one of our 2 week or 4 week boxes!