Did you know that making smart food swaps to more nutritious alternatives can help to avoid empty calories and support your weight loss goals?
It is crazy how many calories can sneak into your diet when you have a coffee shop frappe there and a Friday night takeaway there. And while a treat is great every once in a while, making smart food swaps can be a simple way to reduce your calories while still allowing yourself to have snacks and foods that you enjoy!
That's why we have put together the Exante Smart Food Swaps Guide, to help you make simple changes to your diet that will help maximise your weight loss results.
1. Coffee Shop Frappes
We all have a favourite coffee shop frappe or creamy caramel macchiato that we treat ourselves to slightly too often. But most of these drinks are filled with sugar, whipped cream and lots of empty calories!
That's why we have produced a delicious Exante Caramel Latte Frappe that makes smart food swaps for your usual coffee shop option simple. This shake is packed full of sweet coffee flavours, but unlike your normal guilty pleasure this shake contains just 208 calories per serving.
Plus, this caramel latte frappe also contains 17g of protein, nearly 4g of fibre and 27 vitamins & minerals! If you want a real coffee kick, simply add a shot of coffee and ice in with your shake and blend!
I absolutely love coffee…I was super excited to try this and I was not disappointed! It was sooooo smooth and creamy. I was in heaven! – Billie
A Starbucks Caramel Frappuccino contains 420 calories and 67g of carbohydrates, while our Caramel Latte Frappe contains just 208 calories and 17g of protein!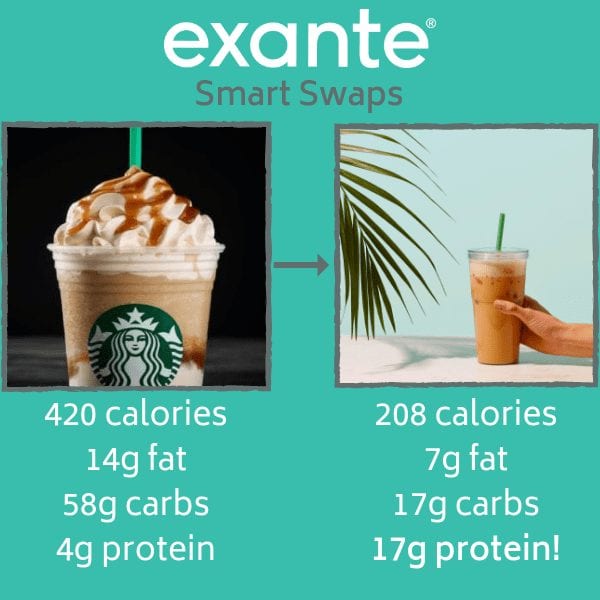 2. Takeaway and Movie Night-in
It is always tempting at the weekend to wrap yourself up in a warm blanket, putting on a film and ordering a takeaway. However, these takeaways could be sabotaging your weight loss goals, as they are extremely high in calories and saturated fat!
If you still want to enjoy a delicious pizza but don't want the 840 calories* that come with it, why not make a smart food swap and try an Exante Pizza?
These pizzas are just the tasty treat I needed while watching tv on the weekend while my family enjoyed their non-diet pizzas! – Zowie
With just 280 calories per serving, our meal replacement pizza is the perfect 'fake-away'!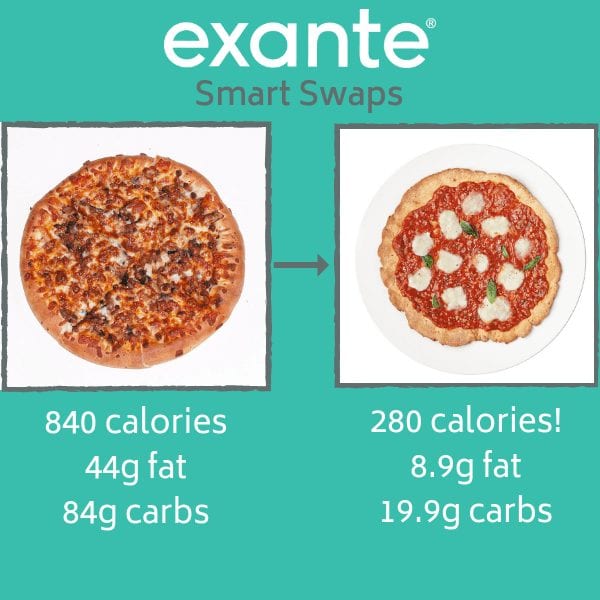 3. Sweet Treats
We all love to enjoy a bag of chocolate every now and again, and there is nothing wrong with the occasional sweet treat! But chocolate lacks protein and fibre – the nutrients that help to make you feel full – so you tend to eat even more chocolate!
That's why we developed our Protein Peanut Caramel Balls and Choco Balls, so that you can enjoy a sweet treat that is packed full of protein, to help you stay fuller and support your weight loss goals!
These are exactly what I was hoping for in a diet, tasty, easy and filling. These are on my list of favourites. – Jen
Our Protein Balls are lower in calories than a bag of Maltesers (203 calories) and contain 15g of protein per serving!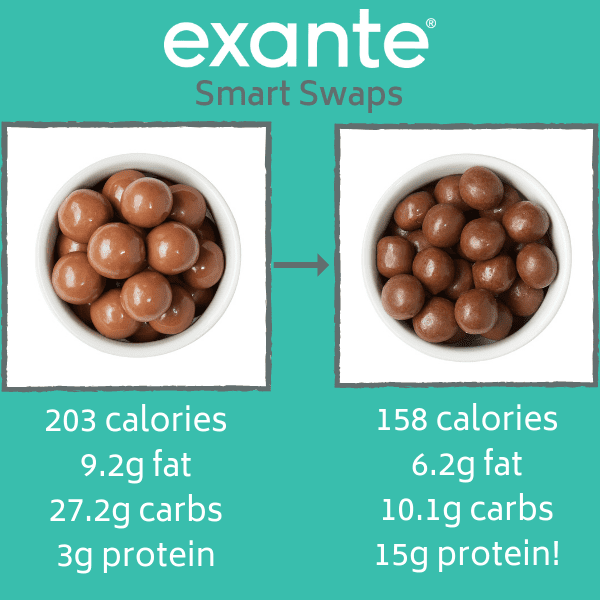 5. Elevenses Cake Break
We are all impartial to a slice or cake or chocolate bar at work in the morning, but a single sweet treat each day could rack up your calorie intake, and these cakes usually lack nutritional value. That's why swapping out your morning cookie or cake for an Exante bar can be a great decision, as all our bars are packed full of protein and fibre!
A piece of Sainbury's Chewy Granola Slices contains 18.3g of fat and 44g of carbs! Why not make a smart food swap to an Exante Maple and Pecan Flapjack?
This is by far my favourite product. Tastes like such a treat. – Jo
Our Maple and Pecan Flapjack contains just 201 calories and more than three times the amount of protein compared to a Chewy Granola Slice!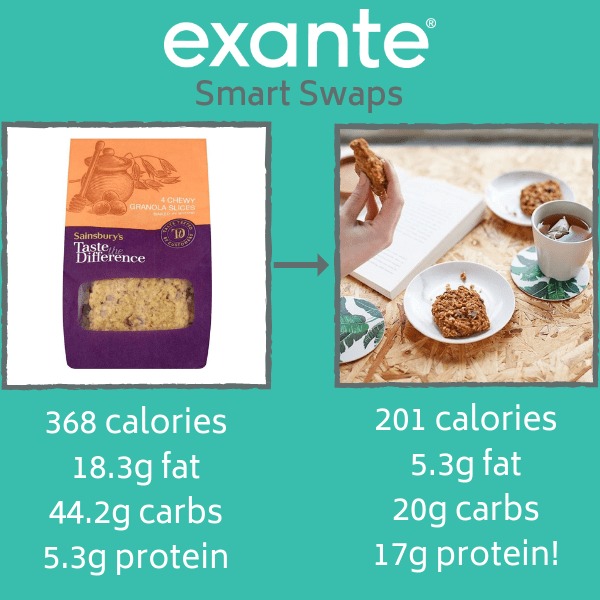 Are you on a diet but struggling with the temptations of your family eating unhealthily around you? Check out our top tips on how to follow a diet when your family isn't!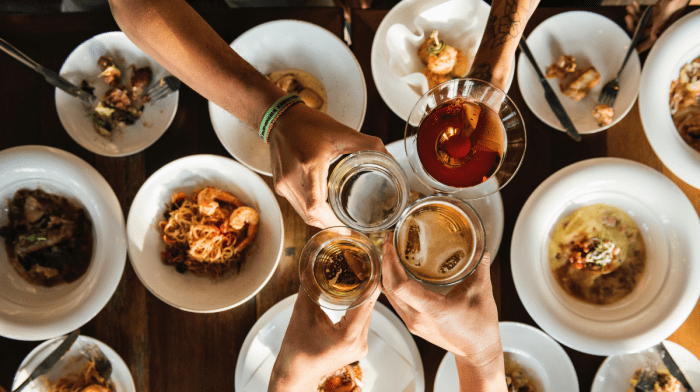 We know that for many of you on Exante, one of the biggest challenges you face is trying to a follow a diet when your family isn't. So to help you stick to your diet, we have put together our top tips on how to stay on track when your family isn't dieting.
*calories in shakes vary slightly
** calories based on a Dr Oetker's Ristorante Mozzarella Pizza