Keto. Love it or not, we all know it's a diet that can help with weight loss, but what really makes it our new go-to diet?
We've launched a NEW range of keto shakes to complement our existing keto-friendly range. Tasty, full of flavour, and perfect for keto, our new shakes are our latest diet innovation.  
Intrigued? Let's find out more… 
What is keto? 
The name 'keto' comes from the process our bodies enter when we cut down on carbs and up our intake of fat. When we eat a diet that is low in carbs, our body enters a state known as 'ketosis' whereby the excess fats in your body are burned for energy. To induce ketosis, a maximum of 20-50g of carbohydrate can be consumed alongside 2000 calories daily (1). 
How does keto work?
Ketosis occurs when the body turns to its fat stores to produce energy, rather than the bodies' primary source of glucose. When carbs and sugar are significantly reduced, and protein and fat intake is increased, the body creates energy from burning the fat stored.   
Carbohydrates and sugary foods both contain glucose, so reducing them will mean your body is relying on fat reserve to keep your energy levels up. 
Enjoy Keto, the exante way…
If you're interested in following a Keto lifestyle, look no further! We have a NEW range of keto shakes to complement our keto-friendly products. That means we have everything you need to enjoy a high fat and low carb lifestyle, without compromising on taste. 
Our full Keto and Keto-friendly range includes:
Prebiotic Keto Shakes 
Keto Friendly Products 
What are the benefits of exante Keto?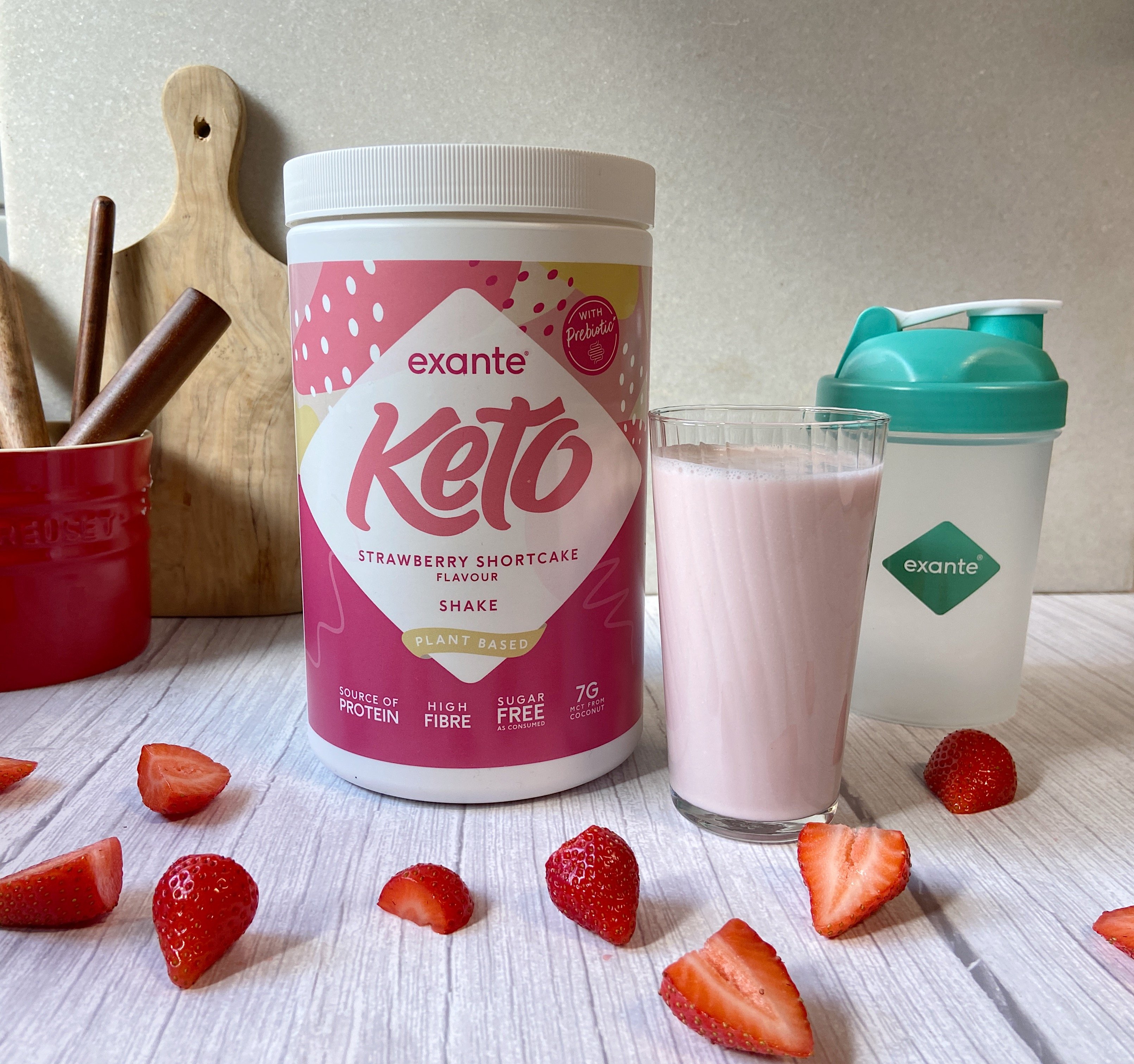 exante's Keto Shakes are brimming with benefits & are one of the yummiest ways to enjoy a keto diet. Check out the benefits below: 
Sugar free**

Source of Plant Protein

High in Gut Friendly Prebiotic* Fibre

7g of Coconut MCTs per serving

 
**as consumed as per suggested use 
*A serving of this product contains 3g of your 12g per day chicory inulin (25% of the required daily intake), which helps to maintain regular gut function through more frequent bowel movements.  
Is exante Keto right for me?
Our Keto products and guidelines mean that a keto lifestyle has never been tastier. Unlike traditional diet methods, keto is not always a calorie-controlled diet. Instead, the focus is on macronutrient split with less restriction on how many products and calories you consume per day. The main thing to remember is your ratio of protein, fats, carbs and sugars. We recommend that 65-70% of your calories are consumed from fats, and less than 10% coming from carbohydrates.