Craving a weekend takeaway but don't want to sabotage your results? Dieting doesn't have to mean you miss out on your favourite indulgences! We've created this delicious Cauliflower Pizza recipe for you to 'cheat' the healthy way this weekend.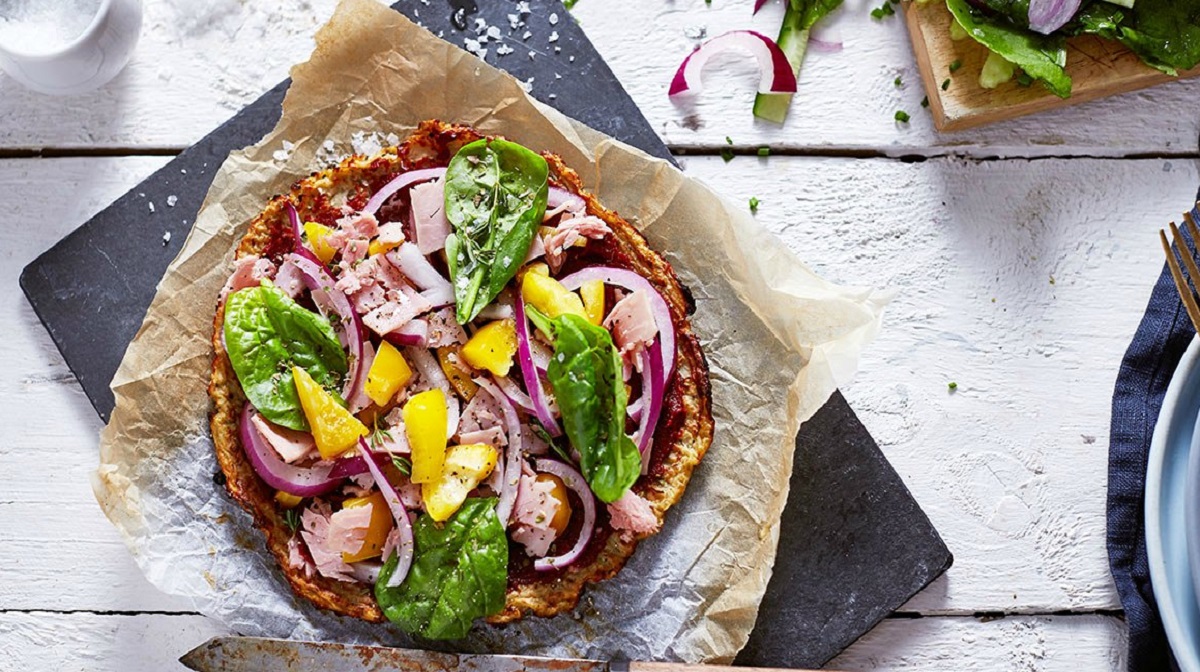 Ingredients
1 large cauliflower head, trimmed and cut into florets
2 medium eggs
salt and pepper
1 tsp dried oregano
Low-Calorie cooking spray
3 tbsp tomato puree
1/4 yellow pepper, sliced
4 slices of lean ham, cut into strips
Method
Preheat the oven to gas 5, 180C/160C Fan
Whizz the cauliflower in a food processor until very fine, then tip into a microwaveable bowl. Cover with cling film and cook for 5 minutes. Add the two beaten eggs, seasoning and oregano. The mixture should be quite wet.
Line a large baking tray with non-stick baking paper. Spray with low-calorie oil spray and put the cauliflower mixture in the tray. Use the tips of your fingers or a spoon to shape. Bake in the oven for 10 minutes.
Take the base out of the oven, cover with tomato puree, pepper and ham and bake in the oven again for a further 10-15 minutes.
Nutrition
Per serving (whole pizza serves 6):
– 82 calories
– 10g carbs
– 2g fat
– 7g protein
-0.53g salt
-4g sugars
Find more of our delicious and healthy recipes in our Autumn ebook.