Ready in 30 minutes
Serves 1 person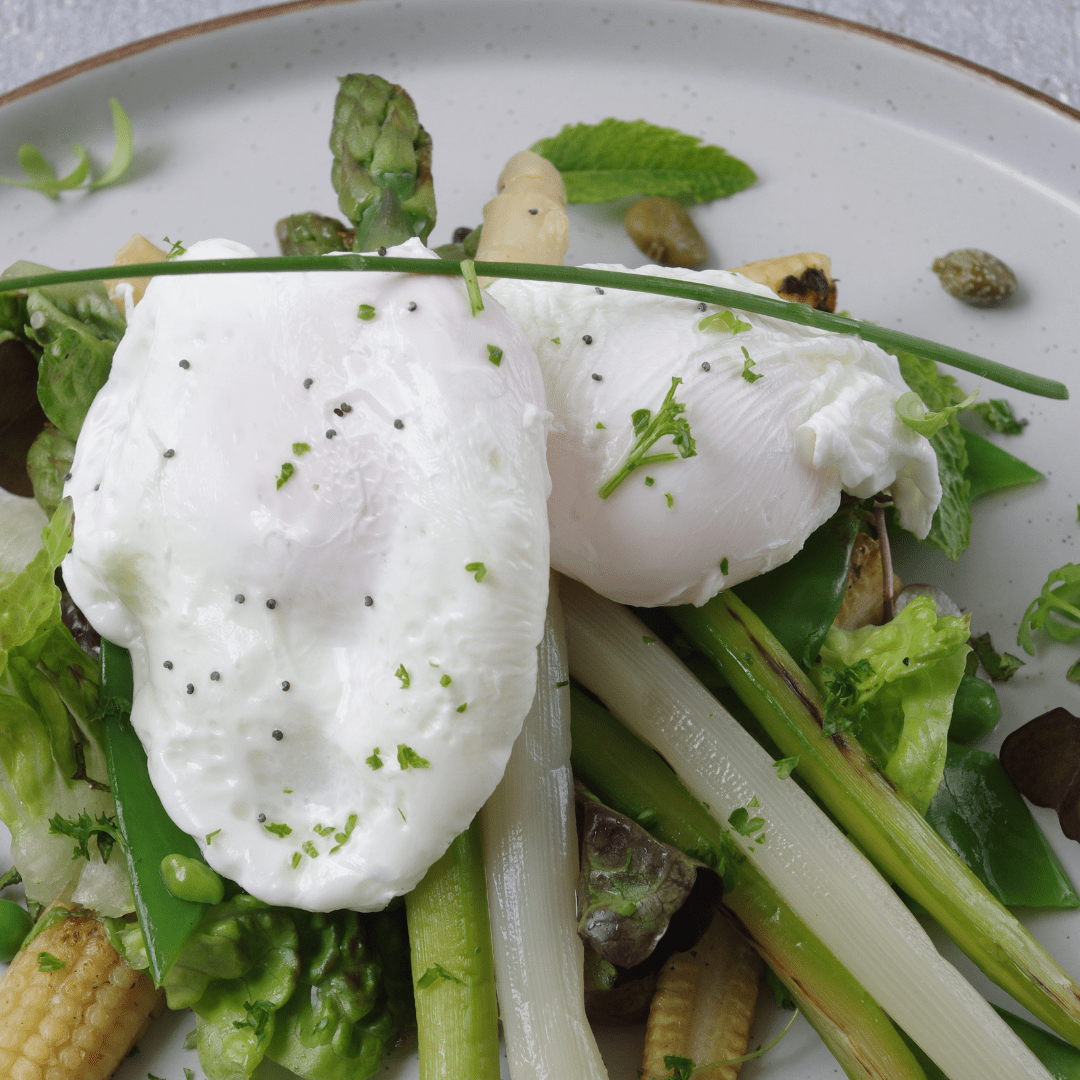 Ingredients
2 Medium Eggs 

2 Pickled White Asparagus

3 Green Asparagus

 

3 Baby Corn

 

25g Garden Peas

 

50g Mangetout

 

15g Cress/Baby Salad Leaves 

 

15ml White Wine Vinegar.

 

1-2 Mint Leaves

 

Salt and Pepper

 

Lemon Juice

 

Chopped Parsley or Micro Cress to finish
Method
Prepare the vegetables by washing the salad leaves and setting aside in a bowl. Prepare the asparagus by trimming off the woody end, not the tip and gently peel (this depends on the age of the asparagus. Cut mangetout into three diagonal shapes and corn into halves down the middle, place in boiling water and cook for 90sec keeping vegetables firm and crunchy.  Place peas in the water 20 secs before draining, drain mangetout, baby sweetcorn and garden peas together . 

 

Bring a medium saucepan to the boil with a pinch of salt. Place asparagus in the water and cook for 120sec, drain and set aside. 

 

Place asparagus in a medium heated frying pan gently rolling around to give a gentle roasted look.  

 

Fill a small pan just over ¾  with water and bring it to the boil. Add 15ml of white wine vinegar and turn down to simmer.  Crack the eggs one at a time into small cups or ramekins  and gently tip into the simmering water. Lightly poach for 2-3 minutes for soft yolks.

 

Remove with a slotted spoon and drain on kitchen towels.

 

 Toss all vegetables together in a bowl with salad and a squeeze of lemon juice, season with salt and pepper. 

 

Place salad and vegetables on a plate and gently place poached eggs on top and season eggs with salt and pepper. 

 
Tips
Vegetables can be prepared in advance to save time
Nutritionals
217 calories
19g Protein
9g Fat
11g Carbs
After some more healthy meals for weight loss? Check out my other recipe ideas here!