Our tips for 

keeping your health in check over the festive season
After a year without Christmas parties and seasonal fun, we're keener than ever to keep our health in tip top condition for the festive period.  But, with Christmas coinciding with the biggest cold & flu season of the year and a new variant of Coronavirus, we're all feeling uber conscious about our health and wellbeing. That's why we'll be offering a few of our top tips to dodging the common cold and giving your body the ultimate MOT this Christmas.  
But first, let's find out a little more about the common cold…  
What is the common cold?
We hear about it all the time, but what do we really mean when we talk about the 'common cold'? Well, put plainly, the common cold is a viral infection that can affect your upper respiratory tract. These kinds of viruses usually go away on their own and can give you:  
A blocked or runny nose

 

Aches and pains

 

A cough 

 

A sore throat

 

Pressure in the ears

 

 A temperature 

 (1)

 
What causes the common cold? 
Sadly, the cold, wet and windy climate of the UK is a breeding ground for cold & flu viruses. It spreads through the air and can enter your system through your nose, mouth and even your eyes (1)! Don't worry though, there are plenty of steps you can take to avoid it: 
Wash your hands regularly using warm water & soap.

 

Avoid sharing household items such as cups with anyone who has a cold.

 

Avoid touching your face, especially your hands and nose because the virus can travel into your body this way. 

 

Stay fit & healthy (1).

 
How can I get rid of my common cold?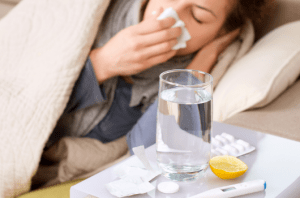 Thankfully, if you catch the common cold, it's likely to go away on its own in around 1-2 weeks.  But there are plenty of steps you can take to ease your symptoms, including:  
Resting and sleeping

 

Gargling with salt water (for a sore throat)

 

Staying hydrated 

 

Keeping warm (1)

 
Want to avoid the common cold altogether? Give your body a winter MOT using our tips & tricks below
1. Increase your vitamin intake
Keeping on top of your daily vitamin intake is always difficult, especially during the dark days and cold weather when we need vitamins more than ever! Vitamin supplements which contain Vitamin D and C are especially important during winter as our bodies tend not to be getting as much as they need from the sunlight and our diet (2). But what if we could get our daily vitamin intake another way?  
Say hello to our low calorie, low sugar BURST drinks! Each flavour of our tasty BURST is enriched with a 3-in-1 multivitamin blend, perfect for staying healthy during the colder months. The multivitamin blend includes Iron and Vitamin B12 supporting energy & focus, Biotin and Zinc supporting hair, skin & nails, and Manganese, Vitamin C and Choline supporting metabolism (3).