To mark World Digestive Health Day, we're raising awareness around the importance of gut-health and why it's important. If you want to learn more about digestive health and how to maintain a healthy gut, check out my Q&A blog post below!
And here's where it gets tasty! Introducing my gut-friendly stew packed with Fibre, Iron, Protein and Vitamin B12 which are vital to promoting a healthy digestive system! Cue my Lentil Stew with Sweet Potatoes, Wilted Spinach and Roast Chicken Thighs…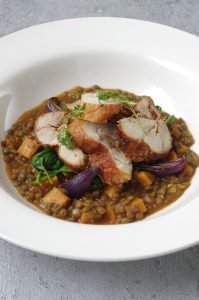 Ready in 80 minutes
Serves 1 person
Nutritionals
Calories: 468kcals
Protein: 47g
Fat: 17g
Carbs: 29g
Ingredients
2 chicken thighs skinless and boneless (200g)
Brown lentils cooked (100g raw)
1 carrot
1 White onion
1 small Sweet potato 100g
3 bunches of Spring onions
10g tomato puree
1 liter of beef stock
10g Gravy granules 10g
1 clove Garlic
1/2 teaspoon of ginger
1/2 teaspoon of turmeric
2 Bay leaves
3-4 Curry leaf leaves
Tomato puree
To finish
Red onion wedges
Wilted spinach
Chopped parsley or Cress
Method
Preheat the oven to gas mark 4, 180°C.
Prepare lentils sorting through and discard any harden kernels. Next wash in 3-4 changes of clean cold water. Soak in enough water to cover for a minimum of 30 minutes. Strain and rinse and replace with freshwater cover in a pot and bring to the boil for 10mins and simmer for 35 minutes. Strain and set aside.
Prepare the vegetables for the stew by dicing the onions, slicing spring onions, crush garlic, dice sweet potato with skin on and dice carrot.
In a medium to large pan sweat off the onions and garlic, when transparent add the ginger powder and turmeric powder and continued to cook. Then add the sweet potato and carrots and continue to cook adding bay leaves and Curry leaves. Now at the tomato puree and continue to stir the pot coating all vegetables on a medium heat. Add half of the stock liquid to the pan and add spring onions mixing in gravy granules, allowed to simmer ensuring it stays at a wet consistency. When the potato sweet potatoes are cooked add the lentils and the remaining liquid, allow the mixture to simmer and until sweet potato dices are cooked but not mushing away.
This Stew mix should serve four portions with 200ml per portion.
Season chicken thighs with salt and pepper, use a skewer to hold the thighs together in a round shape, doesn't have to be perfect. Cook chickens in the oven for roughly 20 to 25mins with red onion wedges. Ensure the juice of the chicken runs clear and is cooked.
Prepared the wilted spinach by placing in a microwavable container and microwave for 1min. Or on the stove top lightly heating with a tablespoon of water.
Ladle lentil stew into a warm bowl plate 200g. Place wilted spinach with roasted red onions on the stew then sliced chicken on top. Garnish with some chopped parsley or micro cress.
Enjoy your gut friendly fibre packed dish!
Note Stew mix should make 4 portions and is fantastic for a next day lunch or dinner as a meat free option at 182kcals per 200g portion and freezes well.