In November we were thrilled to introduce our brand-new ambassador Kerry Katona to the exante family! Like so many others, Kerry joined exante because she wanted to make a positive change that would still fit with her hectic lifestyle. 'I need some help as my food intake is terrible', Kerry confessed on her Instagram, explaining that she wanted to kickstart her fitness journey 'to be the best version of myself'. Feeling inspired by Kerry? Look no further than our blog where we'll be chatting with Kerry to find out her exante tips & tricks and product must-haves! 
Yesterday, we were lucky enough to catch up with Kerry to find out the inside scoop on her exante journey so far…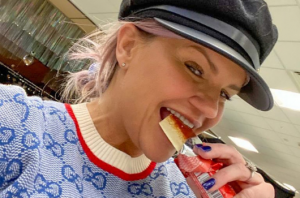 Hi Kerry, thanks so much for joining us for a Q&A!  
"Hi guys! I'm so excited to be chatting about all things exante today." 
So, let's go straight in with the big questions. If you were stranded on a desert island, which exante product would you want with you?  
"Ooo that's a tricky one! I'd say it would have to be the BURST sachets because they're so great at keeping me energised. If I'm on a desert island, it's going to be pretty hot so I need to stay hydrated and BURST is such a good alternative to water. My favourite flavours are Pina Colada if I'm fancying the caffeine-free option or Mixed Berry for a caffeine hit."