These elegant Italian-inspired Panna Cotta recipe is the perfect and easy summer dessert with just 172 calories per two panna cottas! Make them the day before and chill in the fridge.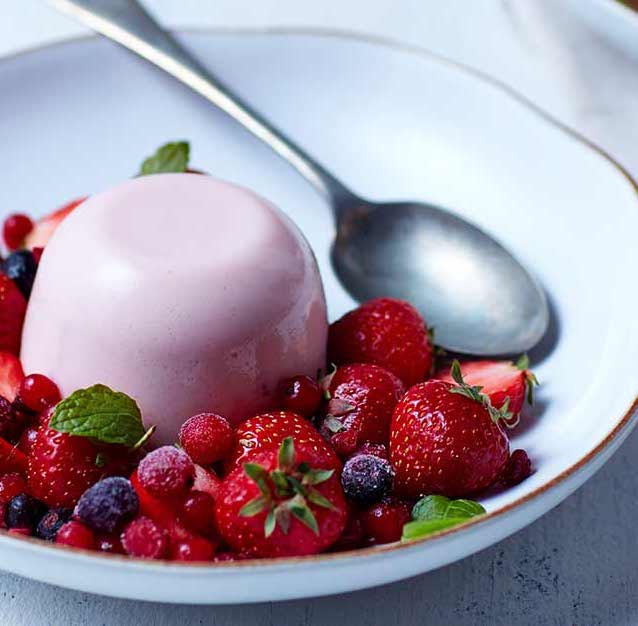 Ingredients
1 Exante Meal Replacement Strawberry Shake, made with 200ml water
4 gelatine leaves
50g strawberries
50ml semi-skimmed milk
50ml half fat crème fraiche
Method
1.Place gelatine leaves in a bowl, pour over enough cold water to cover the leaves and leave to soak for 5 minutes until softened. Remove the gelatine from the water and squeeze away any excess water.
2. Make up the Exante Strawberry Shake as directed on the pack and add to a pan and heat gently. Once simmering, add in the gelatine leaves one at a time and stir until dissolved. Leave to cool.
3. Lightly grease 4 individual metal moulds and divide the mixture between them. Leave in the fridge for at least 6 hours or overnight until set.
4. Once set, remove from the fridge and tap the bottom of the moulds and empty onto serving plates (2 per plate).
5. Top panna cottas with a small dollop (12.5ml) of crème fraiche on each panna cotta and sliced strawberries.
Nutritionals per serving (2 mini panna cottas)

Calories: 172
Protein: 7g
Fat: 7g
Carbs: 12g
You'll find more healthy low carb recipes, along with our 15 Day meal plan and workouts in our Summer eBook! Download yours for free today!