And just like that, February is nearly over- how crazy is that! Of course, with the end of February, we'll be saying goodbye to our amazing #FreeFromFeb campaign. Over the month of February, we've been challenging you to go free from a range of different things in your life, switching out everything from alcohol to meat and now, saying goodbye to sugar.  
Even though it sounds tricky, cutting down on sugar comes with plenty of benefits. In today's blog, we're exploring what it means to have a diet lower in sugar. Better yet, we're even spoiling you with some exante hints and tips as well as our tasty smart swaps. 
Intrigued? Read on to find out more…
What is considered a low sugar diet?
A low sugar diet just means cutting back on how much sugar you're eating- yep, it's really that simple! Rather than going completely sugar free (which can be quite tricky), switching to a diet that's much lower still comes with plenty of amazing benefits and is so much easier to attain.  
What can I eat instead?
As a general rule, there are plenty of things you can avoid to reduce your intake, including:  
Processed food

 

Shop-bought pasta sauce

 

Flavoured yoghurt

 

Fizzy drinks

 

Chocolate

 
Don't worry, we're making it even easier for you to say goodbye to sugar with our Low Sugar Bundle! Cutting back on all things sweet has never been so simple with this handy 2-week bundle, filled full of exante's low and sugar-free favourites.  
In every Bundle, you'll receive: 
What are the benefits of a low sugar diet?
According to the NHS, eating a diet that's too high in sugar can cause weight gain and tooth decay (1). Switching up your diet to be lower in sugar comes with a whole host of benefits, including:  
Supporting weight loss
Reducing your consumption of sugar-rich food can give you a lot more control over what goes in and out of your body. Overconsumption of sugar is directly linked to overconsumption of calories, so cutting back can help you get back in shape (2).  
Helping your heart to stay healthy
When you eat a diet that's a little lower in sugar, you're actually helping to lower your blood pressure, in turn, making your heart a lot healthier. This is all because you're cutting back on LDL, which is the bad cholesterol in your body, so lower nasty cholesterol means happy heart (2)! 
Saying goodbye to Type 2 Diabetes
It's important to remember that overconsumption of sugar isn't the sole cause of Type 2 diabetes, however; cutting back on your intake can help lower your risk of developing it (2).  
Wondering if you can reverse your Type 2 Diabetes? Meet the people who used exante to say goodbye to Type 2 Diabetes: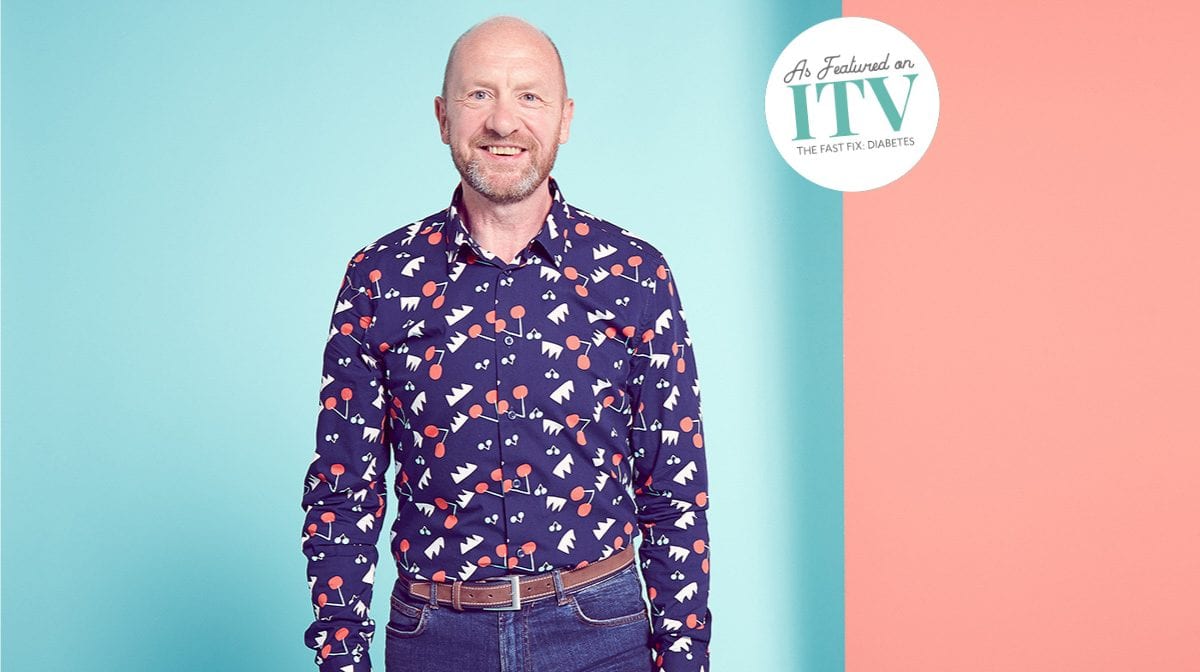 Steve and Jeana took part in ITV's medical experiment 'The Fast Fix', in which they followed the Exante 800 Calorie Plan in an attempt to reverse their Type 2 Diabetes - here are their inspirational stories.
Our Smart Swaps
Love all things sweet and don't know what to try instead? We've got you covered with our range of tasty, flavoursome smart swaps! 
For the sugar binger…
Always find yourself skipping meals because you're just too busy to cook and binging on high sugar snacks instead? We totally get it. That's why we've got a range of yummy low sugar meal replacement shakes and smoothies, perfect for getting that on-the-go food fix.  
High in protein and fibre, enriched with 27 vitamins & minerals and, of course, low in sugar, these shakes and smoothies are a must-have for your busy lifestyle!