Easy Aubergine Tofu Curry 
To mark World Salt Awareness Week, we'd like to give some inspiration and creative ideas on how to use different ingredients to lessen the need for salt.  
This zingy weekday curry recipe uses strong, sharp flavours that work together to create a burst of fresh, aromatic flavours.   
It's quick, cheap and easy to make. Packed full of gut-loving fibre and a variety of vitamins and minerals, this 193 calorie meal is the perfect option for those following the exante 800 or 1200 plan or, if you're just looking for a healthy recipe idea! PLUS, this recipe is 100% Vegan!
Detest tofu? Let me change your mind. Here's a couple of tricks to give us a head start:  
Opt

for the firm stuff, if you're close to a Chinese or Korean supermarket, even better! Try get your hands on Pulmuone and look for the little blue label "Firm" or "for frying" (this may be difficult since most of the packaging is in Korean, but hopefully you can often find those two magic words) – this is the one you want. Creamy. 

Texturous

. Versatile.

 

Drain and dehydrate before use. Unless you want a sloppy pile of white? Didn't think so. So, pop open the pack, pour out the juice. Then – now's the important part – place the tofu block between a few sheets of kitchen roll, place something heavy on top (an old, thick booking book? The Delia Smith in the back of your cupboard gathering dust…cough) and allow 20-30 minutes for the moisture to be squeezed out.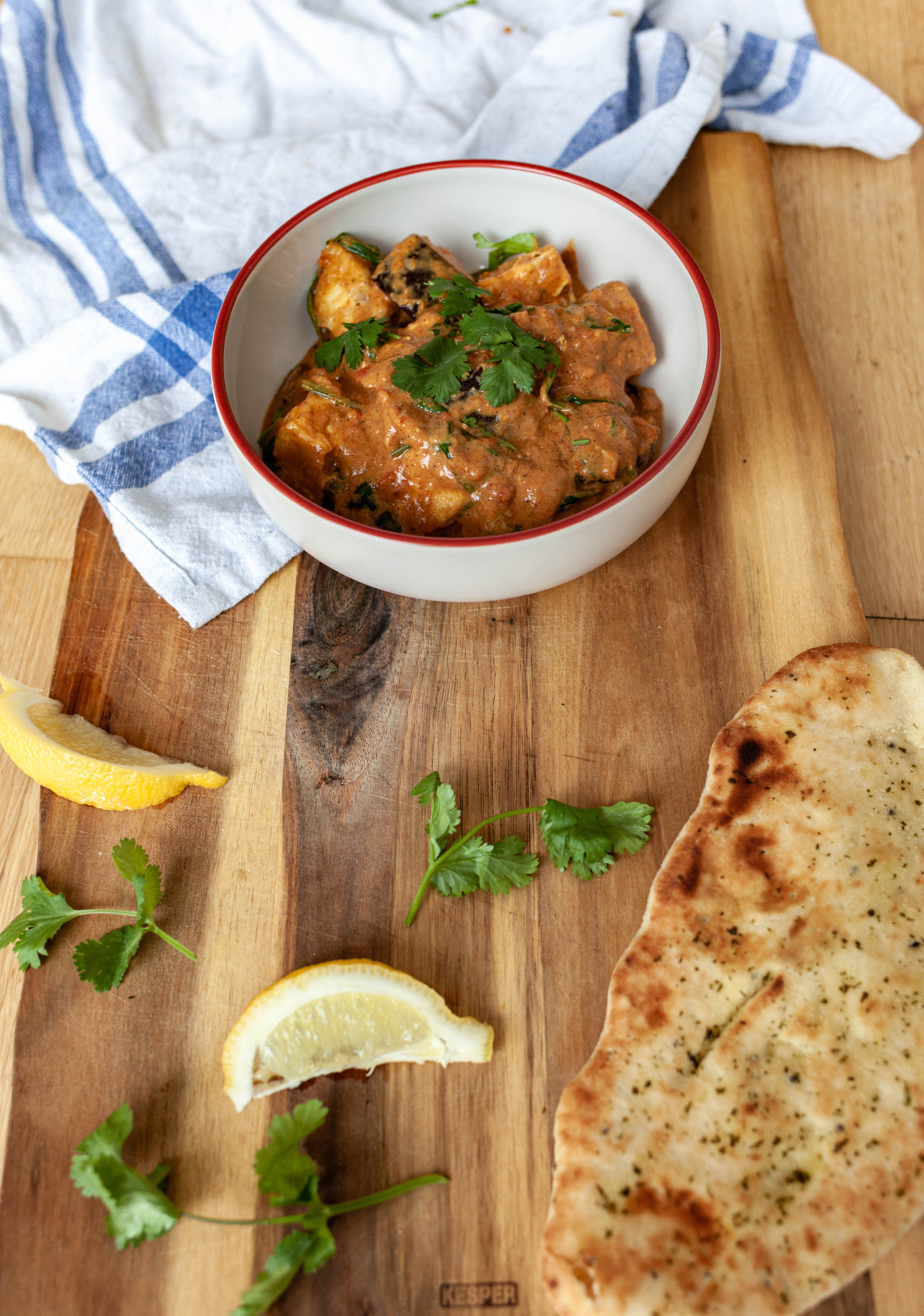 Nutrition per portion
Kcal: 193; Protein: 14g; Carbohydrate: 15g; Salt: 0.45g
Ingredients  
1 tsp olive oil

 

2 heaped tbsp curry powder

 

1 onion, diced

 

1 thumb-sized knob of ginger, pe

eled

 and grated

 

3 gloves of garlic, crushed and chopped

 

500g extra firm tofu

 

1 diced aubergine

 

2 x 400g tins chopped tomatoes

 

 

1 x 400g tinned chickpeas

Zest of 1 lemon, then cut into 4 wedges

 

Fresh coriander, roughly chopped

 

Large dollop of fat-free Greek yoghurt (optional)
Method 
Heat the oil in a large, shallow lidded pan. Sweat the onion until soft, then add the ginger, garlic

, aubergine 

and curry powder. 

Heat ingredients until fragrant. 

Drain and cop the tofu into large cubes, add to the pan and fry until golden

.

 

Stir in the tomatoes and drained chickpeas. 

Sprinkle

 in the lemon zest and squeeze in th

e 

lemon juice

, 

drop in the 

squeezed-out

 lemon wedges, skins and all

 – we'll remove those later.

 

Reduce the heat so the ingredients are lightly bubbling, and leave for 8-10 minutes until the sauce had 

reduced. 

 

Removed from heat, remove the lemon wedge.

*Add a dollop of Greek yoghurt for creaminess (optional).

Serve over wholegrain rice and top with a generous sprinkle of chopped fresh coriander.

 

 
Easy Aubergine Tofu Curry
Servings

4
Prep Time

30 minutes
Cook Time

20 minutes
Nutritional Facts
Amount per serving
| | |
| --- | --- |
| Calories | 193 |
| Sodium | 180mg |
| Total Carbohydrates | 15g |
| Protein | 14g |