Ready in 60 minutes
Serves 1 person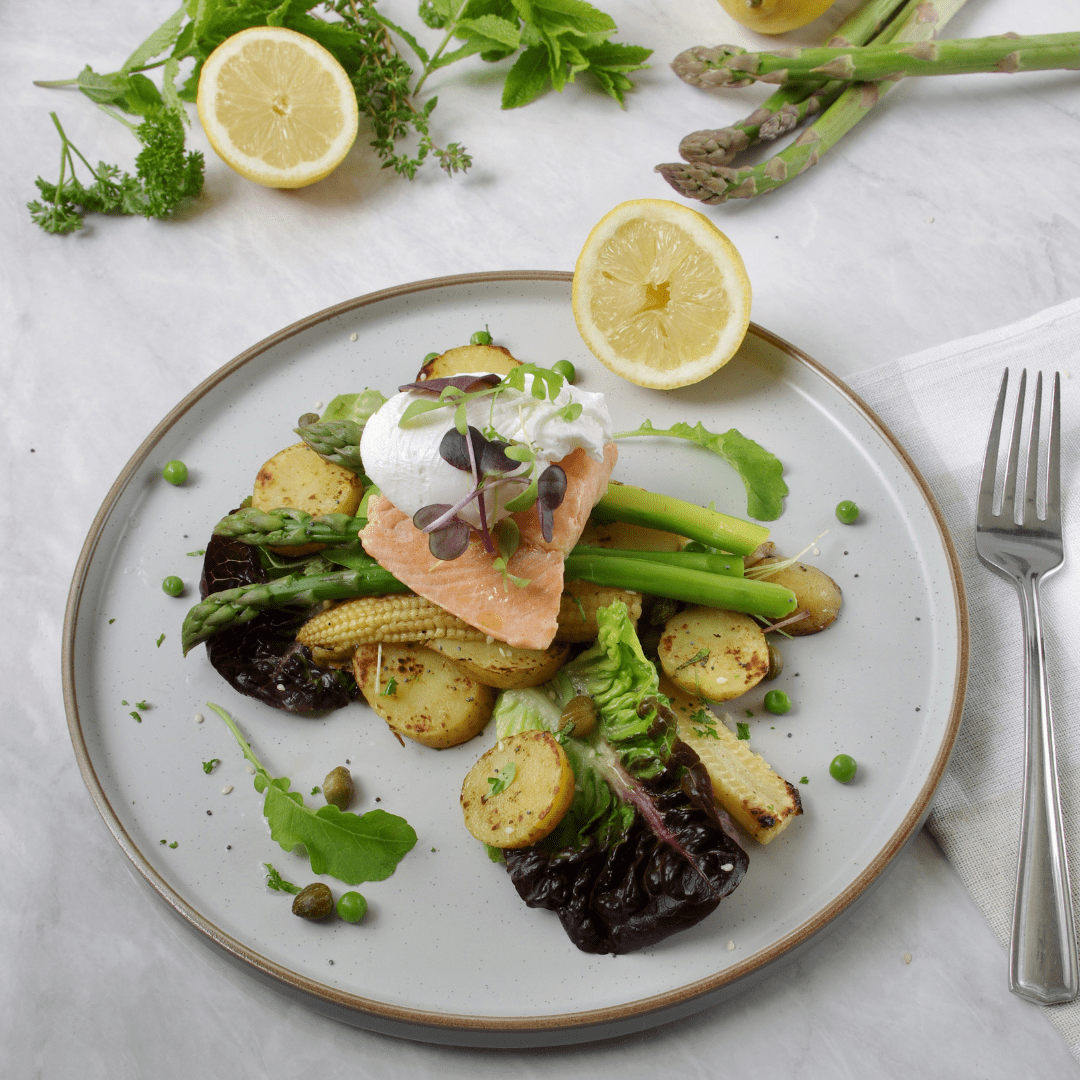 Ingredients
50g fish of choice; eg salmon, trout, cod (no skin)

100g New Potatoes

 

1 Egg (medium)

3 Green Asparagus

3 Baby Corn

25g Garden Peas

1 tsp of Capers

3-4  Baby Gem Leaves 

15ml White Wine Vinegar.

1-2 Mint Leaves

Salt and Pepper

Lemon Juice

Chopped Parsley to finish
Method
Preheat the oven to gas mark 4, 180°C.

 

Place new potatoes on to boil in lightly salted water for an estimated 30-40mins, until tender. When potatoes are cool, slice.

 

Take a square piece of foil and place trout on and season both sides add thyme on top a squeeze of lemon 5ml, 10ml of water. Bring sides of foil up creating a pouch keeping the water in with the fish. Squeeze ends of foil together making it airtight. 

 

Place the foil parcel on a baking tray in the oven and cook for 6mins. 

 

Spray 2-3 1kcal sprays in a medium heated frying pan and gently fry the sliced new potatoes.  

 

Prepare the vegetables by washing the salad leaves and setting aside in a bowl. Prepare the asparagus by trimming off the woody end, not the tip and gently peel (this depends on the age of the asparagus. Cut corn into halves down the middle, place in boiling water and cook for 90sec keeping vegetables firm and crunchy.  Place peas in the water 20 secs before draining, drain baby sweetcorn and garden peas together.  

 

Bring a medium saucepan to the boil with a pinch of salt. Place asparagus in the water and cook for 120sec, drain, and set aside. 

 

Fill a small pan just over ¾ with water and bring it to the boil. Add 15ml of white wine vinegar and turn down to simmer.  Crack the eggs one at a time into small cups or ramekins and gently tip into the simmering water. Lightly poach for 2-3 minutes for soft yolks.

 

Remove with a slotted spoon and drain on kitchen towels.

 

Place baby gem leaves in the centre of the plate with sliced new potatoes, asparagus and sweetcorn. Place poached trout and egg on top and scatter capers on plate. Drizzle lemon juice over the top and season with a salt and pepper grinder.
Tips
Boil the new potatoes the day before to save time
Nutritionals
328 calories
28g Protein
13g Fat
24g Carbs
Check out my other recipes here!