In conjunction with Diabetes Week, I've prepared the perfect Type 2 Diabetes friendly salad which is low in carbs,  calories and full of delicious nutrients! This easy mackerel salad recipe is perfect for the Summer months, and is only 249 calories per portion! Introducing my Summer mackerel salad with beetroot, pumpkin and roasted chickpeas…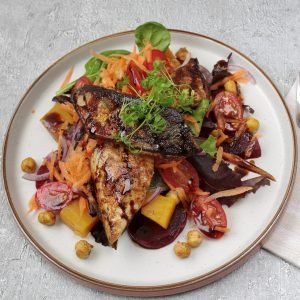 Ready in 25 minutes
Serves 1 person
Nutritionals
Calories: 249kcals
Protein: 14g
Fat: 9g
Carbs: 14g
Ingredients
50g Mackerel fillet
50g chickpeas
50g carrots
30g Red onion
1-2 Oil spray
50g Pickled beetroot
50g Pickled pumpkin/ butternut squash
30g cherry toms 4 each
50g mixed salad
To finish
Balsamic vinegar
Chopped parsley or cress
Method
1. Preheat the oven to gas mark 4, 180°C.
2. Pumpkin can be cooked the day before if you are not using pickled pumpkin. Slice fresh pumpkin and place in the oven
for 10-15mins with 50g of chickpeas.
3. Pre heat a frying pan on a medium heat, then give 1-2 sprays of oil and place mackerel skin side down.
Cook gently for 4-5 mins then tun once for a remaining 2mins.
4. Mix salad and vegetable together in a bowl, place on your plate with the warm mackerel on top with chickpeas.
5. Drizzle with balsamic and serve.
Tips
If you have an air fryer, put the chickpeas in for around 8-10mins
Cook one whole 100g fillet and save half for another day
This dish is packed with fibre around 8.5g. Naturally high in Vitamin D and contributes to one of your oily fish recommendations
If you're interested in learning more about the science behind Type 2 Diabetes, and how exante's lifestyle plans can help, check out their Diabetes resources below…