My Moroccan style chicken thighs in a

Mediterranean

tomato sauce are p

erfect batch cooking or for feeding the whole family. This dish can be

 served with rice, couscous or pasta.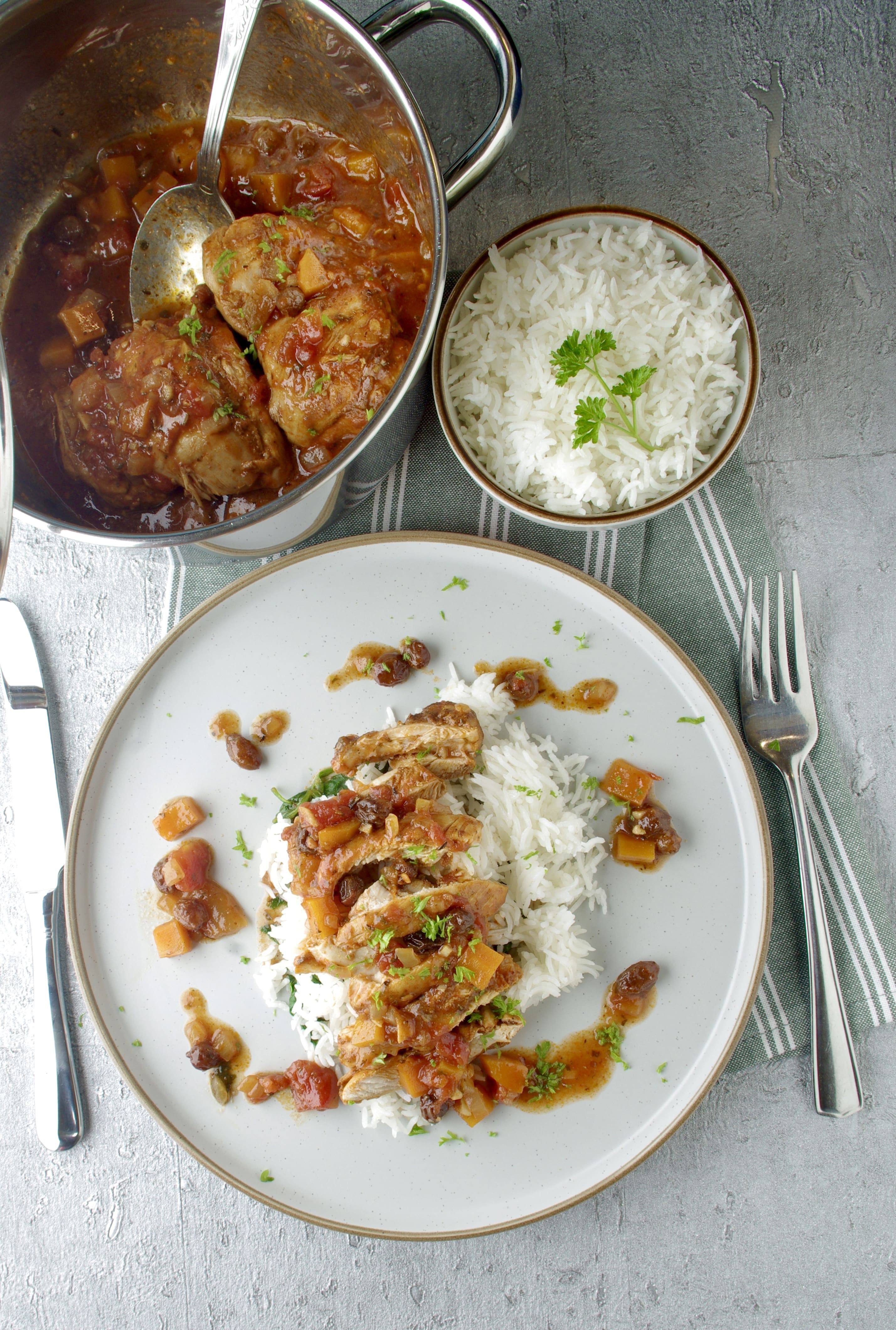 Ingredients
600g Chicken thighs boneless skin off (Roughly 5-6)

 

160g carrots (2-3)

 

500ml Chicken stock

 

400g Tinned tomatoes

 

White onion 

 

10ml oil

 

1tsp Gravy granules 

 

2 cloves of garlic 

 

1 scotch bonnet or any hot pepper 

 

Tomato puree

 

40g Raisins 

 

5g Mixed herbs 

 

Peri peri seasoning (no added salt)

 

3g paprika 

 

5g tsp of salt

 
To finish
Chopped parsley or cress  
Method
Start by removing the excess fat from chicken thighs. Then season with paprika and piri piri seasoning. Place seasoned chicken into a container and leave in the fridge to marinate. 

 

Dice your onions and carrots, crush garlic cloves. 

 

Heat a large deep saucepan or medium pot on a medium flame.  

 

Add 10ml of oil and sweat off your onions for 1min then add the garlic and carrots. Add tomato puree and coat the vegetables turning gently. When the puree has been mixed thoroughly, add chopped tomatoes, stock and mixed herbs. Simmer gently on a medium heat.

 

After 20 minutes, start to pan fry your chicken thighs in a separate pan, browning them nicely for about 2-3 mins on each side. Then place the chicken thighs into the sauce and continue to cook for an additional 20 minutes with a lid on.

 

Depending on your spice preference, place the Scotch bonnet into the pot with the chicken or 5 minutes before the dish is finished.  Slightly score the scotch bonnet with a sharp knife – be careful not to cut completely in half

 

In the last 5 minutes place your raisins into the dish and cover and switch off the heat. 

 

Check the thickness of the sauce, add more stock if too thick. 

 

Serve with your choice of carbohydrate; rice, pasta or cous cous and a portion of vegetables such as broccoli, spinach or green beans. Following recommended portion sizes will result to a dish under 500 calories and low in salt.

 
Tips:
Marinate meats the day before if possible. 

Keep the dish low in salt by letting the flavours come together with herbs and spices.

When food has cooled down portion into microwavable containers for an easy meal to grab and go!

 
Nutritionals:
Per portion
Calories: 300kcals
Protein: 26g
Fat: 14g
Carbs: 17g
Cous cous + 80g 
Calories: 132kcals
Protein: 5g
Fat: 0.7g
Carbs: 25g
Pasta + 100g 
Calories: 176kcals
Protein: 5.8g
Fat: 0.7g
Carbs: 35.7g
Basmati rice +120g 
Calories: 161kcals
Protein: 3.5g
Fat: 2.6g
Carbs: 29.1g
This dish is perfect for our 1200 plan and for ensuring a calorie deficit is achieved.
Want to understand more about what a calorie deficit actually means? Check out our blog post here:
For more of my low calorie, balanced recipes, click here.