Ever wondered how your exante order gets delivered to your door? Well now you don't have to!
Before the launch of our exciting new Breakfast Pouches, we visited our exante factory to see the exclusive behind-the-scenes of your order.  
While you're scrolling through exante looking for your next tasty goodies, our Food Technologists, Production and Operations teams are hard at work making sure you get the best quality exante order.  
The Food Technologist team are always working to create the best, yummiest recipes for all of our treats, but once they've done this, it's over to our Production team to bring your shakes, snacks and pouches to life.  
How we make your Breakfast Pouches
The special thing about our Breakfast Pouches is that they're all packaged by hand from our exante factory by our hardworking production team. But, just like our other exante products, your Breakfast Pouches will start their production journey by going through a special technique we like to call Rip & Tip… 
Rip & Tip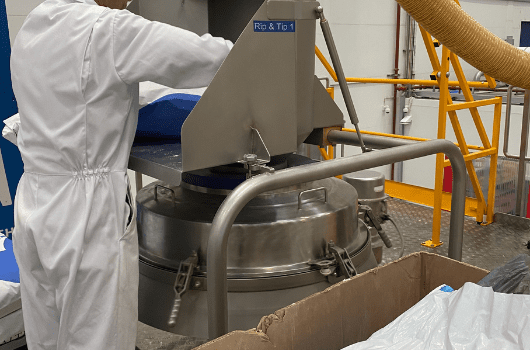 This is the first stage of any exante production journey and it involves mixing together all the different components you need for one of our meal replacement shakes. Each ingredient is brought to the production line in large sacks from our suppliers, ready to be ripped open and tipped into a large mixing vat via one of our industrial sieves.