And just like that, there goes another year! With 2022 just around the corner and the festive period coming to a close, we're beginning to think about our goals for the New Year.  
Now, we don't know about you, but we LOVE January, it's a time for new beginnings and, after the hectic festive period, a chance to get back into a routine and on track. This New Year, we want to help you with your resolutions, saying goodbye to old habits and hello to a new YOU.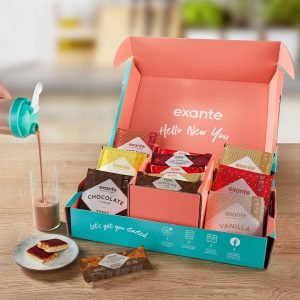 Just in time for the New Year, we've launched NEW boxes to really help you get into the spirit of 2022. Treat yourself to one of our box plans and you'll receive a newly-designed turquoise and coral box, perfect for getting your mindset ready for the New Year.  
So, how are you going to say hello to the new YOU? Why not treat yourself to our brand-new Build Your Own Bundle Deal, the ultimate way to kickstart new beginnings for the New Year. In every bundle, you'll receive a 4 Week Box, filled with:  
 40 Shakes in a variety of flavours

 

20 Bars

 

24 Soups, breakfasts and meals

 

1 exante shaker

 

1 water enhancer

 
Alongside this, you can also select your own exante extras for our best bundle yet! Choose your favourite BURST, a bottle of our bestselling Flavour Drops, Supplements and a Snack of your choice for a treat for the New Year and the New YOU!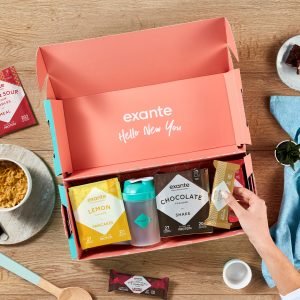 Guess what? We've got even more good news to get you motivated for 2022! Yep, that's right, if you purchase one of our 2 Week, 4 Week or 5:2 boxes in January, you'll receive £5 on your account- how fab is that?