There has been lots of research mentioned in the news lately about the profound impact a low calorie shake and soup diet can have on , weight loss and risk of health issues*. Most recently the ITV News Feature- "Soup and shakes NHS diet programme rolled out to help tackle diabetes".
A study conducted by Oxford University has found that very low-calorie diets (VLCDs) may be a more effective weight loss solution than the commonly recommended 'slow-and-steady' approach for those who with a BMI of more than 30*.
800 Calorie Shake and Soup Diet
Our plan allows you to eat three of our soups, shakes, bars and a day plus either 200 calories of high protein food or an extra exante meal replacement product.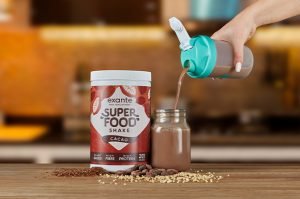 As the Oxford University research found, this low-calorie diet plan is most effective for those who are considered 'obese'. We recommend the exante 800-calorie diet plan for those with a high BMI*.
With the largest meal replacement range on the market – from Red Thai Chicken Soup to our 'world's first' plant-based juicy meal replacement shake, JUICED– there is a soup, shake, bar and meal to suit everyone. This makes sticking to your diet much easier as you can choose flavours you really enjoy!