Yes, it's that time of year again, the dreaded January. Although January already feels as though it has already run its course, we're only two-and-a-bit weeks into it, how crazy is that? More than that, we're now rapidly hurtling towards the dreaded Blue Monday.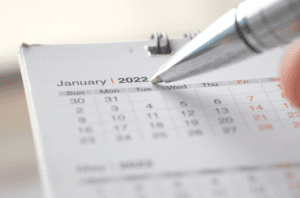 For anyone who doesn't know, Blue Monday has been nationally declared as the most depressing day of the calendar year. But just because it's the third Monday before payday, it doesn't mean everything needs to be miserable! In today's blog we're unpicking what makes this Monday so bad and how, like us, you can combat succumbing to the blues then and throughout the remainder January.  
Struggling to stay positive this January? Check out our tips for staying on track for 2022 in the blog below 
What is Blue Monday? 
Blue Monday falls upon the third Monday of January every single year. This is always exceptionally difficult because most of us get an early payday for Christmas, technically making it feel more like the fifth Monday of the month! Blue Monday is said to be so tough because the weather is often very cold and grey, bank balances are looking rather empty and, generally, the mood is pretty low.