This hearty, home-cooked Sweet Potato Cottage Pie is packed with protein and a healthy way to indulge in one of your Winter favourites, without having to sabotage your weight loss goals.
Did you know the average pub dinner has between 800 and 1200 calories?
So if you're craving some 'pub grub' but don't want to derail your diet, try our healthy take on Cottage Pie to keep you on track.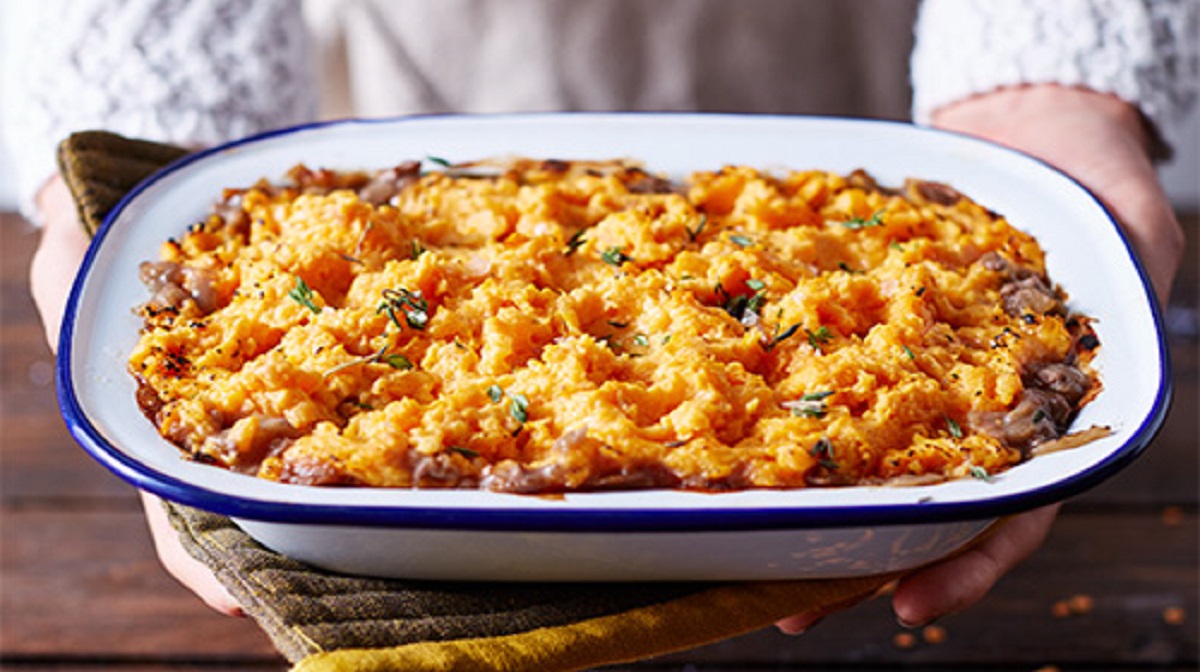 Sweet Potato Cottage Pie
Ingredients
Serves 4:
200g finely chopped onions
2 garlic cloves, chopped
2 carrots, grated or finely diced
400g pack of lean turkey mince
85g red lentils
350g swede, diced
2 tbsp plain flour
750ml reduced salt beef stock
200ml red wine
500g sweet potato, diced
150g 0% plain yoghurt
salt and pepper to taste
Method
Spray fry light or low-calorie oil into a pan and heat. Add the onions and fry for 6 minutes until they start to turn golden.
Add the garlic and carrots and cook for 4 minutes more.
Stir in the mince, breaking it up with the spoon. When it has turned brown, add the lentils and swede. Cook for 1 – 2 minutes, then gradually add the stock and red wine.
Cover and simmer for 35-40 minutes.
Meanwhile, boil the sweet potatoes for 15-20 minutes until tender, then drain and mash with the yoghurt and black pepper.
Spoon the mixture into a 2-litre ovenproof dish, spread or pipe the potato mixture on top, then grill until the topping starts to brown. (If making ahead, reheat in the oven at 180C/160C fan/gas 4 for 45 minutes)
Nutrition
Per serving:
6g Fat
427 Calories
53g Carbs
34g Protein
9g Fibre
0.9g Salt
If you are on Flexi Solution or are on food week and want more delicious recipes, take a look at our Autumn ebook.
If you are following Total Solution, we have some amazing meal replacement meals that you can enjoy as part of your plan. Craving this Sweet Potato Cottage Pie but want to stick to plan? Try our calorie-controlled Sheppards Pie Meal Replacement Meal.