Low calorie diets are now being looked at with regard to reducing the risk of type 2 Diabetes. exante previously featured in a prevalent study that was aired on ITV in June. The results were incredible, with some of the participants successfully sending their Type 2 Diabetes into remission.
We've been lucky enough to work with Tracey, one of the volunteers on ITV's 'The Fast Fix: Diabetes', to find out how the study went and a little more about her journey. All of the volunteers were overweight, had high liver fat % and had Type 2 Diabetes. They moved into 'The Fast Fix' Clinic for four weeks where their progress was overseen by GP Dr Zoe Williams and Professor Jason Gill, a leading name in the prevention of type 2 Diabetes. The study looked to see whether a VLCD (very low-calorie diet) could reverse Type 2 Diabetes, which for Tracey is exactly what happened. Read Tracey's full story below.
Tracey's Story
It's been 4 months since coming back from the "house" where I lived with 4 complete strangers.  The person I was when entered that house, stayed there.  The person I became in the house and that is writing this now is a completely different person in so many ways -it is still hard to comprehend – even over 4 months later.  Yes, I've lost weight but I knew that would happen because that was a large part of the experiment, along with the attempt to reverse type 2 Diabetes.
The Study
We found out on arrival that we would be on 800 calories a day – a huge shock to the system.  I had some challenges ahead – surviving a VLCD, living with 4 complete strangers in a house, undergoing lots of tests and experiments and being filmed all at the same time. Read more about 'The Fast Fix' study here.
About Me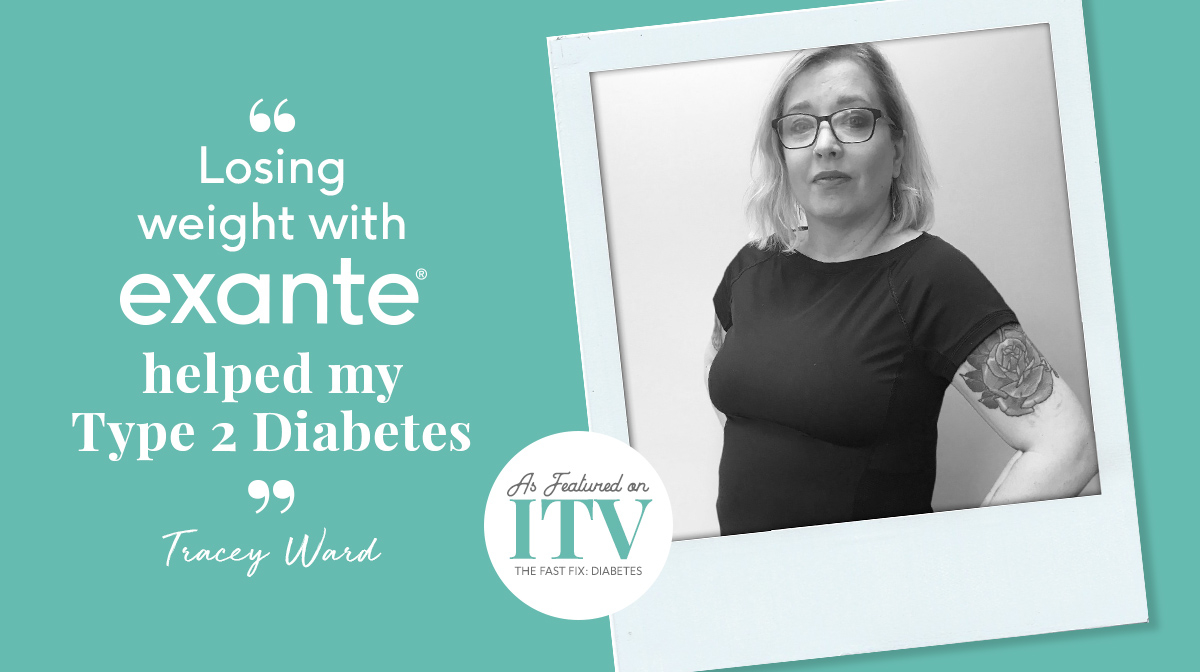 I have had problems with my weight for as long as I can remember. I've been on countless, unsuccessful diets and eventually I gave up. I started getting heavier and heavier and then, approximately two years ago, I started noticing changes: extreme tiredness, regular occurrences of thrush and unexplainable thirst and hunger. I knew that something wasn't right so I decided to go to the doctors.
They took my HBA1C blood test (an average blood sugar result over the past three months) and found that my blood sugar was incredibly high (according to the British Heart Foundation, if you have persistently high blood sugar levels, you are likely to have diabetes).
I was placed on medication but continued to struggle with my weight and blood sugar levels – that was until I was chosen for 'The Fast Fix'.
Before I started this experiment, I thought very low calorie diets and shake diets were bad for you.  I had it in my head that not only were they dangerous but that you also always put all the weight you've lost back on.  So, when they provided us with the exante meal replacement shakes my heart sank.
Well how wrong was I? Ok, so I will admit that the first couple of days I wasn't keen. But as soon as I got used to them and started to use water from the fridge to have them chilled – they tasted fantastic.  I quickly found my favourites and then just got stuck in.  I was hoping it would help reverse my diabetes but shockingly it did even more than just that!
Shop Tracey's favourite exante meal replacement products!