Whether it's for a pick-me-up on your lunchbreak or as a treat in front of the TV on a Friday night, it can be difficult to find the perfect snack to combat your cravings in the healthiest way. That's why we've created an easy yet nutritious snacking option to keep you going, without the guilt.  
So, say hello to our NEW low-calorie snacking option, Snack Shots… 
What is a 'Snack Shot'?
So, we've grabbed your attention with our super exciting snack launch, but what do we mean by 'snack shot'. Well, a Snack Shot is small, convenient packet of tasty fruit, nuts and seeds. They're ideal for people who are always on-the-go or those who don't always have time in their hectic schedules to make a 'healthy' snack. Each 'Snack Shot' serving is packed full of fibre and is under 100 calories- seriously, what's not to love?  
Available in 3 tasty flavours, you'll have plenty of options to curb your sweet, salty and spicy cravings.  
Intrigued? Read on to learn more.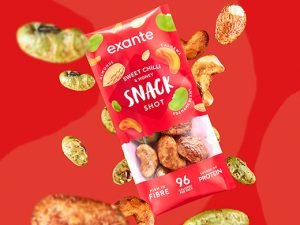 Fancy adding a bit of heat to your day? Set your taste buds on our Sweet Chilli & Honey Snack Shot, the perfect blend of sweet and savoury. This 96-calorie treat is packed full of flavour with tongue-tingling sweet chilli cashews and edamame that'll tantalise your taste buds after a hectic day. Don't worry if you're not a fan of spicy food, we've paired the spice with sweet chilli & honey almonds, creating the perfect blend of sweet and spicy to keep your mouth cool.