To kick off the Royal celebrations, we're treating you to our PENNY SALE! Buy 7 servings and get another 7 for only 1 p!
Happy Coronation Bank Holiday! The long weekend is almost upon us and it's time to celebrate King Charles' Coronation! If you're anything like us, you'll be hosting a BBQ, street party or garden festivities and might even fancy putting on a buffet or some party food.  
But what if I want to stay on track?
Don't worry, you can still enjoy the royal fun this weekend even if you're looking to stay on track. Check out a few of our favourite Party Pack Hacks below, perfect for anyone looking to cook up a storm this Coronation Weekend.  
Kate's exante Coronation Angel Cake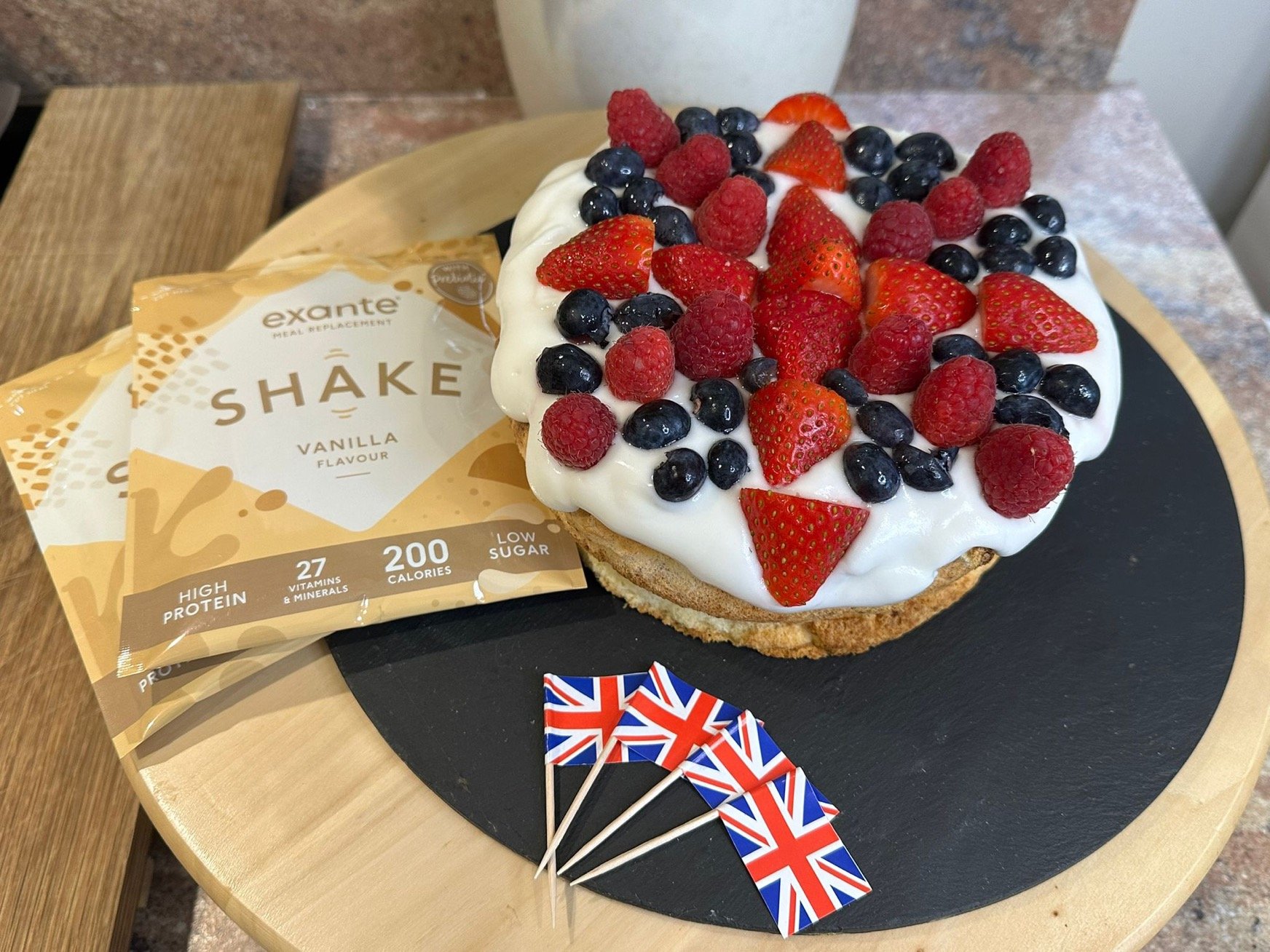 To decorate…
Fresh strawberries , blueberries & fresh raspberries
4 tbsp powdered erythritol (optional)
Almond milk
METHOD
Preheat the oven to 160°c
Prepare a deep cake pan  or a deep sheet pan by lining it with parchment paper
Use a wire sieve to sift the almond flour, exante shake packs , baking powder, & salt into a medium-sized bowl.
Sift all ingredients together a second time and set aside.
In a separate bowl, whip the egg whites and cream of tartar until frothy.
As the whites begin to take shape, sprinkle in the sweetener while continuing to beat the egg whites.
After the sweetener is added, pour in the vanilla flavour drops . Whip until stiff peaks form.
Add about one-third of the sifted dry ingredients to the egg whites and gently fold. Repeat ,slowly until all of the dry ingredients are added.
Fold the ingredients carefully so that the egg whites do not deflate.
Place the batter into the prepared cake tin and gently smooth the top until even.
Bake for 35-40 minutes or until the top is browned and springy to the touch. Let cool completely, before removing the cake from the pan. It needs this time to firm up. The cake may deflate slightly as it cools.
Cut using a serrated knife as it will make cutting easier.
Mix the powdered sweetener and almond milk together to form an icing and cover top of cake & arrange the fresh fruit as desired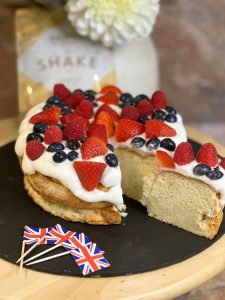 (Please note: if you're covering this with icing and fruit completely , eat it the same day as it soaks up icing. If you're not then simply dust with icing as and when I eat it)
Kate's Calorie Counted Coronation "quiche"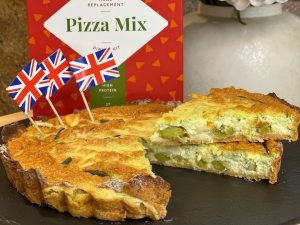 For this one, the exante pizza mix is used. Mix together the base and topping, with 50g of Greek yoghurt.  Add the yogurt a little at a time to start forming a dough with your hands. This will become your quiche 'pastry alternative'.
Pizza base & sauce mixed -202 calories
50g 0% yogurt – 28 calories
Filling ingredients:
100g light cream – 195 calories
4 x small eggs – 216 calories
60g light cheese – 180 calories
100g Broad beans ( from tin) – 61 calories
Fresh tarragon
Salt & pepper
METHOD:
Place a 20cm loose-bottomed tart tin on a baking sheet. Spray tin with low calorie oil.
Lightly flour the work surface and roll out the "pastry alternative " to a thin circle a little larger than the top of the tin and approximately 5mm thick.
Carefully lift the "pastry" into the tin and gently press into the corners, taking care not to have any holes or the mixture could leak. (use a bit of the extra "pastry to fill holes best I could, just keep filling and make a "shell" as best you can)
Cover and rest for a few mins in the fridge whilst you heat the oven to 170 fan
Line the "pastry" case with greaseproof paper – to do this cut a disc of greaseproof paper larger than the tin, scrunch it into a ball (this makes it more pliable), then unwrap and place it in the pastry case. It should come above the sides. Fill with baking beans or uncooked rice and bake blind for 15-20 until  lightly golden and dry.
Carefully remove the greaseproof paper and baking beans, and return to the oven for 5 minutes to dry the base.
Reduce the oven temperature to 160C/140C fan/gas 3.
 For the filling for coronation quiche, beat the cream, eggs and herbs with some seasoning.
Scatter half of the low calorie grated cheese in the blind-baked base, top with the 100g Broad beans, then pour over the liquid mixture.
If required, gently give the mixture a delicate stir to ensure the filling is evenly dispersed, but be careful not to damage the pastry case.
Sprinkle over the remaining cheese. Place into the oven and bake for 20-30 minutes until set and very lightly golden.
The full quiche is 882 calories, which divided into 6 portions is only 147 calories a slice!
Kate says "I was sceptical about this flavour, but I'm absolutely hooked! – it's really tasty!"
Kate's Coronation Cucumber Sandwiches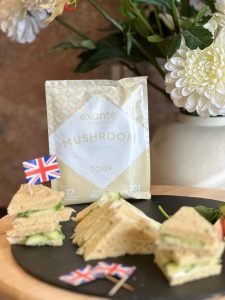 "If you have seen my page you will know that I like to make bread with my soup mixes. So what better time to make some cucumber sandwiches than for the coronation? It's an easy 90 second microwave version for this one…"
You will need:
1 exante diet mushroom soup packet
1 tablespoon of almond flour
Half a teaspoon of baking powder
1 small egg
Tablespoon of water to make the consistency just right
Mix all the ingredients in a microwaveable square dish for 90 seconds. Check every 30 seconds to ensure it doesn't overcook.
Remove from the microwave when it is still slightly wet-looking at the top – it will finish off cooking as you're cooling it.
Once the bread has cooled, cut in half carefully to make "slices". Fill with your desired sandwich filling. We've opted for cream cheese and cucumber.
Serve and enjoy!
Strawberries & Cream Coronation Shake Cake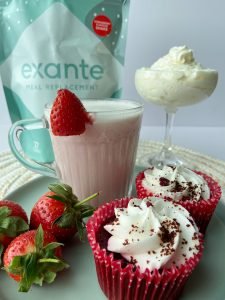 Is there anything more quintessentially British than strawberries and cream? Think Wimbledon and pure deliciousness for even less calories with this Strawberries & Cream-inspired Shake Cake. 
What you'll need:   
2 large eggs 

 

100g plain, fat free yoghurt 

 

50g melted butter 

 

1 tsp baking powder

 

100g finely ground almond flour

 

exante Strawberry shake (1 serving/sachet)