To kick off the Royal celebrations, we're treating you to up to 35% OFF all our exante products online- what are you waiting for? 
Happy Jubilee Bank Holiday! The long weekend is almost upon us and it's time to celebrate the Queen's Platinum Jubilee! If you're anything like us, you'll be hosting a BBQ, street party or garden festivities and might fancy putting on a buffet or some party food.  
But what if I want to stay on track?
Don't worry, you can still enjoy the Jubilee fun this weekend even if you're looking to stay on track. Check out a few of our favourite Party Pack Hacks below, perfect for anyone looking to cook up a storm this Jubilee Weekend.  
Strawberries & Cream Jubilee Shake Cake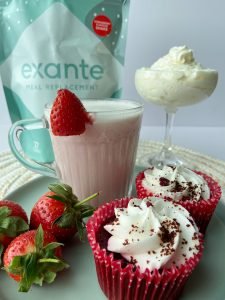 Is there anything more quintessentially British than strawberries and cream? Think Wimbledon and pure deliciousness for even less calories with this Strawberries & Cream-inspired Shake Cake. 
What you'll need:   
2 large eggs 

 

100g plain, fat free yoghurt 

 

50g melted butter 

 

1 tsp baking powder

 

100g finely ground almond flour

 

exante Strawberry shake (1 serving/sachet)

 
How to: 
Preheat your oven to 175 degrees Celsius 

 

Line a 6-cup muffin tin with 6 cupcake cases

 

In a large bowl, whisk the eggs, yoghurt and melted butter together, gradually adding the flour

 

Once the mixture looks smooth, add in one serving of your Strawberry shake and the baking powder, whisk again until smooth

 

Spoon the batter into the cupcake cases until almost full

 

Pop your cakes into the oven and bake until slightly browned on top and spongy to touch

 

Cool for 5 minutes 

 

Decorate however you fancy & enjoy!

 
Union Jack Jubilee Waffles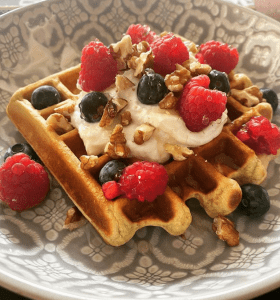 Fly the flag for the UK with these light, lemony waffles, perfect for kickstarting your Jubilee celebration breakfast.  
What you'll need:  
How to:  
Mix your Lemon Pancakes sachet with 100ml of water

 

Pour into a waffle maker and cook for 1-3 minutes until golden and crispy

 

Allow your waffles to cool and top with fruit and yoghurt, arranging them in the shape of the Union Jack

 
British Blueberry Scones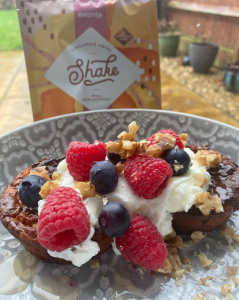 While we may disagree on its pronunciation, as a nation, we all love tea and scones, right? Well, how about saying goodbye to calorific scones and switching to these super simple berry British scones?  
What you'll need:  
1 egg

 

1tsp baking powder

 

1tbsp oats 

 

Blueberries

 
 How to:  
Preheat your oven to 180

 

Whisk the dry ingredients with the egg 

 

Pour into cupcake cases and spray with fry light

 

Place 2-5 blueberries into each cupcake 

 

Bake for 25 minutes

 

Cut in half, spread with fat free yoghurt & enjoy!