Welcome to the exante family!
So you've got your exante delivery and wondering where to start? Let us explain… 
We specialise in a wide range of balanced shakes, meals, bars, soups and more to help you achieve your weight loss and management goals. Our diet plans include:
Weight Loss (VLCD/Calorie Controlled) 
Weight Management (Calorie Controlled) 
Keto  
Our simple diet plans are designed to be enjoyed with our tasty products to help you achieve your health and lifestyle goals, no matter what they may be. So let's talk a little bit more about how they work…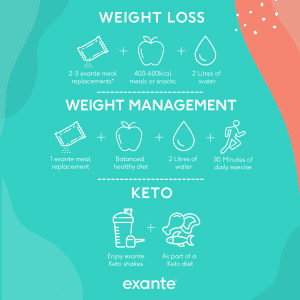 How does exante work?
Our meal replacement products contain 27 vitamins & minerals 33% NRV (Nutrient Reference Value) and are specifically designed to support you on a weight management or weight loss* journey.  Keep reading for our recommendations on how to use the products depending on your goal.  
Remember, this is just a guide, so if you've found another method to work for you, that's totally fine too. Want to see what some of our fantastic customers have achieved on their exante plans? 
There's no fear of 'sins' or 'points' with exante. We don't restrict or attach guilt to certain food groups. Instead, we understand that everybody has a different starting point, end goal, and relationship with food. Our products intend to inspire healthy habits and help you build a positive mindset towards your diet. 
We want our products to be enjoyed as flexibly as possible and have therefore simplified our plans to 'weight loss', 'weight management' and 'keto'.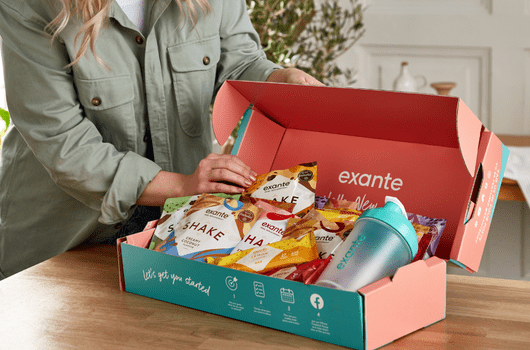 exante for weight loss:
We recommend swapping 2-3 meals per day with exante meal replacements, followed by 400-600kcal healthy meals and snacks(1). However, if you are unsure, we always recommend customers consult with a GP before embarking on a meal replacement diet.