Sundried tomatoes are a great addition to add flavour and substance to pasta dishes. This chicken, pesto pasta tastes great, is full of goodness (and extra veggies of course!) and is super easy to make. Plus, if you are craving a hearty Italian dish this weekend but don't want all of the fat and carbs that usually comes with it, this recipe is the perfect choice to finish your weekend right!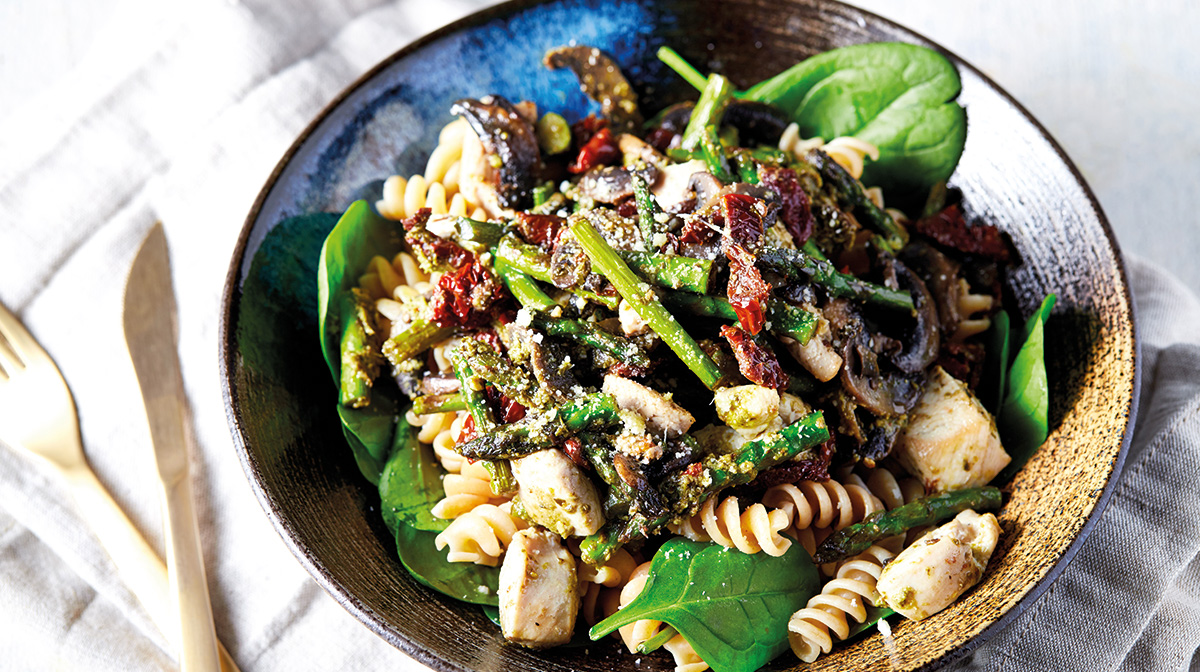 Ingredients
| | |
| --- | --- |
| Chicken breast | 80g |
| Mushrooms | 80g |
| Asparagus | 80g |
| Wholemeal pasta (dried weight) | 50g |
| Sun dried tomatoes (washed to remove oil) | 20g |
| Green pesto | 15g |
| Parmesan cheese | 15g |
Method
Heat a frying pan over a medium heat and spray with low kcal oil.
Dice the chicken and into the pan. Cook for 5-6 minutes.
Slice the mushrooms and asparagus and add to the pan, along with sundried tomatoes. Cook for a further 5-6 minutes.
In a separate pan bring some water to the boil and cook the wholemeal pasta.
Once the pasta is cooked, drain and return to saucepan.
Keep on a low heat and add in the cooked vegetables and stir through the pesto.
Once the sauce is heated through (2-3 minutes), remove from heat and sprinkle with parmesan to serve.
Nutrition
505 calories
42g carbs
15g Fat
44g Protein
If pasta isn't your thing and you still want an Italian indulgence without sabotaging your goals, try our delicious Exante Pizza meal replacement to keep you on track!